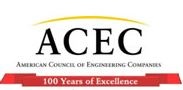 We're honored that the American Council of Engineering Companies (ACEC) has awarded three of our projects 2014 Engineering Excellence Awards. Our projects at the Parkland Hospital Central Utility Plant and the Big Bull Creek Wastewater Treatment Plant have earned National Recognition Awards. What's more, The Wacker Drive Reconstruction Project earned a Grand Award, making it one of eight projects nationally that are eligible for the ACEC's top honor, the Grand Conceptor.
In our world, the Grand Conceptor award is a huge deal, widely recognized in the industry as a symbol of engineering excellence and the ACEC's highest recognition. In 2005, our work with the Florida Everglades received this accolade.
All three projects will be recognized during the ACEC's annual Engineering Excellence Awards convention on April 29 in Washington, D.C., after winning at the state level: Parkland Hospital won an ACEC-Texas Gold Medal, Big Bull Creek won an ACEC-Kansas Engineering Excellence Award and Wacker Drive won an ACEC-Illinois Honor Award. In total, eight Burns & McDonnell projects were recognized in state-level ACEC competitions.
Here's a bit about each of the projects receiving national recognition:
Parkland Hospital Central Utility Plant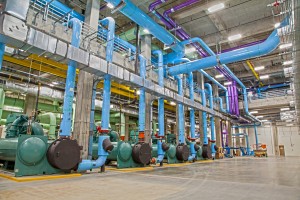 Parkland Hospital's central utility plant (CUP) provides essential thermal, electric, water and emergency utilities to the new 2.5 million-square-foot Acute Care Hospital (ACH) and its surrounding healthcare campus in Dallas. The ACH is Dallas County's public hospital, and it's the only Level 1 trauma center in the area, making the plant a vital facility for thousands of residents. Given the importance of this plant, reliability, sustainability and long-term operational flexibility were the driving forces that shaped the design of the CUP. Our team provided energy analysis, conceptual and detailed design. The CUP can provide 20 megawatts of emergency power, deliver 16,000 tons of chilled water and produce approximately 200,000 pounds per hour of steam. It was designed to meet Silver certification standards in the U.S. Green Building Council's Leadership in Energy and Environmental Design (LEED) program.
Big Bull Creek Wastewater Treatment Plant and Conveyance System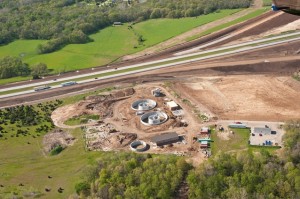 This joint venture involved devising a design-build solution for the neighboring Kansas cities of Edgerton and Gardner. The project had to satisfy multiple demands while reducing long-term costs — a challenge we were excited to tackle. The $19 million Big Bull Creek Wastewater Treatment Facility occupies about 6 acres just outside Edgerton, and it's within reach of nearby Gardner. The creek includes nearly 3 miles of combined gravity sewer and force main, with three additional pumping stations along the route. The 500,000 gallon-per-day treatment facility, which accommodates increased flows from a nearby development, uses energy-efficient technology to meet the most stringent water quality standards in Kansas.
Wacker Drive Reconstruction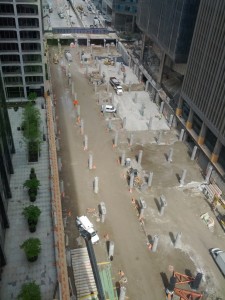 For this project, we provided construction management services for the final stage of the Revive Wacker Drive program for the Chicago Department of Transportation. A major two-level thoroughfare was completely renovated, which involved the demolition of a transportation main-line and full reconstruction of the viaduct bridge structure. The project required construction from the caisson foundations up to the post-tensioned deck that was suspended over the new lower level through-lane pavement — which was no easy task. The overall Wacker Drive project was challenging because of its accelerated schedule and the complex staging configurations necessary to maintain access to buildings for 135,000 vehicles and 150,000 pedestrians daily.
This year's ACEC Annual Convention started on April 27 and runs through April 30 at the Grand Hyatt in Washington, D.C. Attendees have the opportunity to find out more about the issues affecting the engineering industry through informative educational and social programs. Will we see you there?