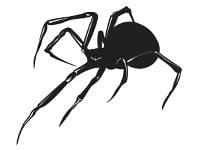 Are SPIDERS taking over our military's power supplies? While the thought of that may bring to mind visions of a horror B-movie, the Department of Defense (DOD) has successfully deployed SPIDERS to increase the energy security of critical assets at two key military installations. The Smart Power Infrastructure Demonstration for Energy Reliability and Security program (see why it's called SPIDERS?) has delivered innovative microgrid solutions to Joint Base Pearl Harbor Hickam (JBPHH), Hawaii, and Fort Carson, Colo.
SPIDERS represents the latest Joint Capability Technology Demonstration (JCTD) project involving the Department of Energy (DOE), the DOD and the Department of Homeland Security. The SPIDERS JCTD was established to increase the DOD's resilience to vulnerabilities in our nation's power grid, such as severe weather events and physical and cyberattacks on the commercial grid. Phase I of the SPIDERS JCTD was completed at JBPHH in February 2013 and successfully demonstrated a cybersecure microgrid that integrated distributed generation assets that included both traditional diesel backup power generators and renewable sources.
Phase II at Fort Carson was completed in October 2013 and took the JCTD one step further, integrating multiple diesel generators, a large photovoltaic (PV) array, and the battery storage of several large electric vehicles connected via a multicircuit distribution system in the heart of the garrison. The result provided a cybersecure means of using and controlling distributed power generation assets in a more reliable, efficient manner than traditional diesel generator backup systems alone. SPIDERS enables the installations to provide backup power to missions and facilities that previously had none, all while consuming less diesel fuel and thus emitting fewer pollutants.
The DOE's Federal Energy Management Program (FEMP) and the DOD's U.S. Northern Command (USNORTHCOM) hosted an Industry Day on April 22 to showcase the latest accomplishments and lessons learned from the SPIDERS JCTD at Fort Carson. More than 200 people, including dignitaries from the DOD, DOE and DHS as well as military and industry stakeholders, attended Industry Day. The SPIDERS team discussed the JCTD objectives, technical challenges and results, new breakthroughs in cybersecurity, and plans for transitioning SPIDERS solutions within the DOD and to other government agencies and private industry. The day ended with a site tour, demonstrations of the microgrid operating in grid-tied and island modes, and a brief on cyber red team efforts by the U.S. Pacific Command (USPACOM) focused on increasing the resiliency of microgrid control systems.
The SPIDERS JCTD brought together the U.S. Army, U.S. Army Corps of Engineers (USACE), U.S. Navy, Naval Facilities Engineering Command (NAVFAC), USNORTHCOM, USPACOM, the Office of the Secretary of Defense (OSD), and several DOE Laboratories to develop, manage, assess and transition SPIDERS to benefit our nation's energy security. Both Phase I and Phase II were designed and constructed by the Burns & McDonnell team, along with several key partners, including IPERC, Parsons, Southwest Research Institute and Coritech Services.
The SPIDERS JCTD will conclude its construction efforts with a third and final microgrid project at Camp Smith, Hawaii, in early 2015, which will provide more efficient and more reliable backup power to the entire Marine Corps base and also participate in ancillary services with the local utility to reduce the installation's utility bill by reinforcing the utility grid.
The final phase of the JCTD is to provide a transition plan for the DOD and industry at large to be able to introduce microgrids based on distributed energy resources — something our team thinks has the potential to significantly change the future of energy security in the U.S. It's an exciting time in our industry and SPIDERS is playing a big role.
Dave Barr is the director of federal projects for Burns & McDonnell. He specializes in DOD energy initiatives, including energy security and microgrids, and he's managing the SPIDERS program for Burns & McDonnell.
Other resources on the topic:
SPIDERS: Resilient Microgrids Protect Critical Infrastructure
Burns & McDonnell Delivers First-of-its-Kind EV Chargers
Military Energy Enters SPIDERS Web
White Paper: Microgrid Effects and Opportunities for Utilities