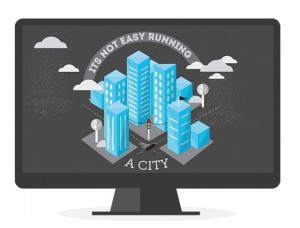 It seems like only yesterday when I first introduced our innovative technology, PublicWay, at the 2012 CityAge, The Summit on The New American City conference in our home market of Kansas City, Mo. Two years later, it's both an honor and a pleasure to be speaking about the technology once again at this year's CityAge conference, taking place in June in Seattle.
Using Technology to Create Innovative Solutions
PublicWay is a web-based tool, designed to help public sector authorities coordinate and manage the construction and maintenance of public thoroughfares. Developed by Burns & McDonnell, the technology was initially designed to assist the Kansas City, Mo., Water Services Department with a 20-year program focused on eliminating overflows of contaminants into the metropolitan sewer system. PublicWay went live in May 2013, and it's the latest evolution of our OneTouchPM set of tools, which has been used to solve problems, save money and maximize efficiencies for a number of clients across the U.S. and Canada.
How It Works
Just one year since it officially launched, PublicWay is making a real difference in the efficiency of capital improvement planning and maintenance work. This unique technology draws information from various sources, including work order systems, action center systems, project management and scheduling software, GIS systems, design applications and planning systems, to name a few. PublicWay translates data from many formats and displays it geospatially in near real time. Once translated, the data becomes more intuitive to interpret, allowing people to find correlations and conflicts.
PublicWay has many useful features, including maps, charts, graphs and analytic tools, more of which I'll be speaking about at this year's conference. Perhaps what people find most user-friendly about PublicWay is that it doesn't require a change of computer system or any adjustment to the way in which data is managed. Its convenience saves money, reduces the need for training and allows for better collaboration. Everybody wins!
CityAge Conference 2014
CityAge is a platform for ideas and business development, designed to enable new partnerships among the business, government and societal leaders shaping the 21st century. Founded in 2012 in Vancouver, British Columbia, events have taken place in the U.S, Canada and the United Kingdom. To date, more than 3,500 industry leaders have attended a CityAge event. This year, CityAge conferences are in Seattle; Edmonton, Alberta; Waterloo, Ontario; London; Vancouver, British Columbia; and Ottawa, Ontario. My colleague Jamie Katz and I will be presenting at the Seattle CityAge event, which will be June 10-11, on the effect PublicWay has had in our industry and how we see its role in shaping the future.
If you've not yet attended one, put it on your must-do list for 2014 — you'll be glad you did. We'll link the CityAge website at the bottom of this post and encourage you to check it out. If you're headed to Seattle next month, make sure you look us up. We would love to hear what's happening in your city!
Wes Hardin is a project manager at Burns & McDonnell who combines his passion for technology with entrepreneurial vision, engineering experience and technical skill to develop new tools and processes, like OneTouchPM® and PublicWay™, that have revolutionized project and program management for the firm. You can reach Wes via email at whardin@burnsmcd.com.
Other resources on this topic:
CityAge Website for more info and to register