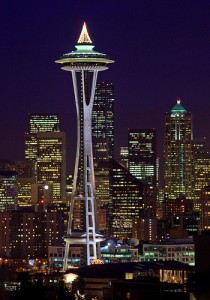 It's not news that the energy industry faces significant challenges in the generation and distribution of energy. As such, it's more important than ever that there's an ongoing dialog in the community as a whole, so the complexities, risks and uncertainties the future holds can be addressed in a positive, proactive manner.
That's why my team and I are excited to be attending, sponsoring and contributing to IDEA 2014, the 105th Annual Conference and Trade Show of the International District Energy Association (IDEA), which is from June 8-11 in Seattle. The IDEA conference brings together the best and the brightest from the international thermal energy community to discuss critical issues around planning, design, engineering, construction, operations, marketing and policy across the industry.
As you might expect, there's a terrific lineup of knowledgeable presenters on the agenda. Events during the four-day conference will include:
Critical insights from leading industry experts and practitioners.
The opportunity to exchange solutions to challenges with others in the industry.
Practical takeaways in the form of business models, innovative solutions and new tools.
Active engagement through workshops and networking events.
A look at the future with a strategic review of policy, investment climate and market drivers that will influence the industry going forward.
My team and I are excited to be delivering four key presentations during the conference:
Speed to Market — Fast-Track Project Implementation
I'm presenting as a principal with our OnSite Energy & Power Group, and I'll talk about fast-track implementation of projects and how the more quickly a project can be implemented, the sooner the benefits can be realized. It's a simple idea, but not so simple to implement. I love solving the "speed" problems. Even more importantly, we've gotten great results for a number of clients through fast-track implementation, so I'm excited to share those case studies and examples of strategies used on central energy projects with you. Those case studies will include:
Airbus Powerhouse (Mobile, Ala.) — Central plant for the A320 manufacturing facility in Mobile
Enwave Biomedical District Steam Plant (New Orleans) — Steam plant designed for hurricanes
Purdue University Chiller Replacement (West Lafayette, Ind.) – Replacement of a 6,250 ton steam driven chiller
Updates at the Los Angeles International Airport
Steve Tredinnick, a senior project manager in our OnSite Energy & Power Group, will give a joint presentation with George Stawniczy from LAX Developments Group about updates at the Los Angeles International Airport. The presentation will describe how the airport's existing central utility plant is being replaced and how using trended data to highlight improvements can provide lessons for the future.
Dispatching for Dollars — How to Economically Dispatch Existing Assets
Kurt Koenig, a senior project manager with our OnSite Energy & Power Group, will highlight key considerations when deciding how and when to dispatch central plant CHP assets, the tools available to make informed decisions, the market drivers to consider, and the impact of wrong decisions.
Navigating the Clean Air Act
Robynn Andracsek, an air permitting engineer, will describe how knowledge of air permitting effects combined heat and power (CHP) projects can shorten the time needed to obtain a construction permit and protect the plant's operational flexibility. The presentation will explain the basic requirements of construction permitting, show shortcuts that can help in obtaining the crucial permit to start construction, and demonstrate the nuances of netting out major source permitting requirements.
Our team is looking forward to the conference and to hearing former Deputy Assistant to the President for Energy and Climate Change Heather Zichal give the keynote address. I'd also be lying if I didn't admit our team is also looking forward to the other events happening in conjunction with the conference, including the golf tournament, food tours, tech tours and myriad dinner events. We're also proud to sponsor the Delegates Dinner on Monday, June 9, so we hope to see you there!
If you're headed to Seattle for the conference or trade show, be sure to say hi and introduce yourself at either our trade show booth (#71), one of the presentations mentioned above, or at another event. We would love to spend some time talking industry issues with you.
You can find out details of the conference and trade show by visiting IDEA 2014: Moving Community Energy Forward. Looking forward to seeing you there!
Blake Ellis is the manager of Burns & McDonnell's OnSite Energy & Power Group. He leads a team of professionals that focuses solely on the campus energy marketplace, including central utility plants, CHP systems, energy distribution and overall energy improvements. Want to learn more? Connect with Blake on LinkedIn.
Other resources on this topic:
The Grid of the Future: A Practical Overview of Microgrids