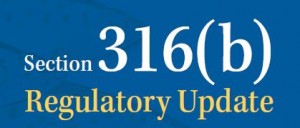 Section 316(b) of the Clean Water Act is intended to minimize the adverse environmental impacts of cooling water intakes. In May, the U.S. Environmental Protection Agency (EPA) issued the final rule implementing Section 316(b) for existing facilities and for new production units at existing facilities. The rule applies to intakes structures that are designed to withdraw more than 2 million gallons per day from waters of the United States and use 25 percent or more of that water for cooling.
The new standards aim to reduce the mortality of fish and other aquatic life caused by water intake structures. Mortality occurs as a result of impingement, when fish and other aquatic life become trapped against water intake structures, or entrainment, when these organisms are sucked into cooling systems and exposed to elements like heat, pressure and machinery.
The rule recognizes the unique characteristics of each cooling water intake structure and provides a flexible framework for selecting the best technology available (BTA) to minimize impingement and entrainment mortality. The EPA estimates this rule will apply to 544 electric generators and 521 manufacturing facilities.
The New Rule at a Glance
The new rule provides seven options for BTA to minimize impingement mortality that range from a design intake rate commensurate with closed-cycle cooling or a through-screen velocity less than 0.5 feet per second, to active intake screens with modern fish handling and return systems or other technologies that will meet the impingement mortality performance standard of an annual average of less than 24 percent. Less stringent impingement minimization requirements can be established on a case-by-case basis for facilities with naturally low impingement rates and facilities with capacity utilization rates under 8 percent.
The default BTA for entrainment minimization is a cooling water intake rate commensurate with closed-cycle cooling. The actual BTA for a given facility, however, is determined by the discharge permitting agency based on a site-specific, cost/benefit analysis of retrofitting cooling towers, fine-mesh screens or other entrainment reduction measures. Costs considered include not only capital and operation and maintenance but also mitigation for potential adverse environmental impacts such as increased air pollution, fogging and icing, and consumptive water use. For facilities with actual design intake rates greater than 125 million gallons per day, the information needed to make the entrainment BTA decision will be provided by the applicant in the form of studies.
Some other interesting tidbits in the rule are:
"Fragile" fish species, those with impingement mortality rates over 30 percent even under the best of circumstances (mostly herring-type fishes) are excluded for consideration in estimating annual impingement mortality rate.
Ponds or lakes constructed as a source and sink of cooling water, even if classified as waters of the United States, are now considered closed-cycle cooling systems and are BTA for impingement and entrainment.
Canals constructed to deliver water from a source to a cooling water pump house are considered part of the overall cooling water intake structure and the less-than-0.5-fps criterion for impingement minimization BTA can apply at the mouth of the canal.
Implications of the New Rule
The proposed rules recognize the wide variety of biological conditions at cooling water intakes and do not impose a one-size-fits-all compliance mechanism. A potential fly in the ointment, however, is that the EPA did not provide guidance to states for determining when the costs would outweigh the benefits. I anticipate that these studies will show that, in most cases, the costs of retrofitting cooling towers to minimize entrainment will be substantially higher than the benefits to the environment and society.
If you'd like to learn more about these new rules and how they might affect you, I wrote a regulatory update that explores the topic in more detail. You can find that link at the bottom of this post. Of course, I'd also be happy to chat with you and answer any specific questions you have. Feel free to send me an email or connect with me on LinkedIn.
Gregory Howick, PhD, is the senior limnologist and aquatic ecologist at Burns & McDonnell. He has extensive experience working on projects in the power industry, specifically involving compliance with Section 316(b) requirements and water quality criteria.
Additional Resources: