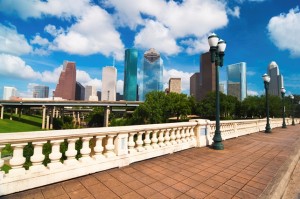 What makes a community livable? That's a question that's quickly changing shape as baby boomers — now in their 50s and 60s — grow older.
Thanks to advances in medical care and a greater awareness of what makes a healthy lifestyle, boomers are expected to live longer, on average, than any generation before them. That longevity, as well as the size of the boomer generation — nearly one in five Americans will be over 65 by 2030 — is becoming a challenge for urban planners, who have the responsibility of planning how our cities will evolve over the next few decades.
Today, there's a concerted effort to discover more about what older adults want and need, so that urban planners, policy makers and engineers have the information they need to create plans and develop concepts that can satisfy this demographic.
What Boomers Want
The AARP Public Policy Institute carried out an extensive survey of more than 4,500 adults aged 50 and older to find out what livability means to them. One lesson the study's authors say they learned is that one size most definitely does not fit all when it comes to community preferences of boomers. However, a few trends did stand out:
A majority of older adults want local authorities to increase police presence and improve schools. "Safe communities and good schools may be signals of a generally 'good' community," the report's authors suggest.
Most boomers would like to remain in their current homes, rather than move. Called "aging in place," this is a newer concept that wasn't really an option a generation ago. It could influence everything from the type of support and services available to home improvements.
Most people aren't overly concerned about crime, but personal safety becomes a larger issue among those who are family caregivers, people who have disabilities, those who don't drive, and people with lower incomes.
Not surprisingly, there are issues that take on significance within smaller groups of people. For example, boomers who rent are concerned about funding for affordable housing programs.
The study also concluded that an individual's definition of a "livable community" may not necessarily change as a person ages — "unless a major life change forces a new perspective." That makes sense, doesn't it?
Consider the Mobility Factor
Many older adults don't plan for a time when they won't be able to drive or will face other mobility issues. But, because many urban areas haven't developed reliable mass transportation options, boomers in those areas could eventually experience problems carrying out simple tasks like shopping, going to medical appointments or meeting with family and friends.
Coming Soon: Rate Your City with the "Livability Index"
It was interesting to read that the AARP intends to develop a web-based "Livability Index" to help measure whether cities and neighborhoods are meeting the needs of people over 50. The proposed index will combine mapping technology, survey results, quantitative measures and public policies to assess and compare communities. The results will give people a better understanding of their own communities so they can make better-informed decisions.
The index, which is expected to be publically available in the spring of 2015, has a few goals:
To inform community residents so they can make informed choices and stimulate change in their neighborhoods.
To help local policy makers understand how different policies, investments and community decisions can be beneficial.
To stimulate local and state policy planning and investment.
Although aimed primarily at the wants and needs of AARP's members, the Public Policy Institute says it wants the index to "quantify the degree to which a community has the elements that are necessary to meet individual needs regardless of a person's age, income, physical ability, ethnicity and other factors."
It will be interesting to see to what degree the index influences policy and planning in this vital area. You can find out more about the Livability Index and the work that AARP is doing in this area at The Livability Index.
This type of study is of particular interest to my team and I as a lot of our work is with municipalities, helping develop processes, tools and technologies to help cities run more efficiently. I'm just recently back from attending the CityAge conference in Seattle in June (CityAge, The Summit on the New American City) and if urban planning and the challenges facing cities in the 21st century are topics of interest for you, check out other CityAge events — they're terrific opportunities.
Wes Hardin is a project manager at Burns & McDonnell who combines his passion for technology with entrepreneurial vision, engineering experience and technical skill to develop new tools and processes, like OneTouchPM® and PublicWay™, that have revolutionized project and program management for the firm. You can reach Wes via email at whardin@burnsmcd.com.
Other resources on this topic:
Livable Communities and the Baby Boomers
What Does 'Livable' Mean to Older Americans
CityAge Website (for more information or to register to attend a conference)