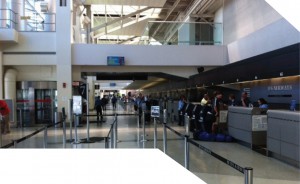 With the merger of American Airlines and US Airways, Philadelphia International Airport (PHL) is set for significant renovations to accommodate the world's largest airline.
Led by US Airways, which uses PHL as its primary international hub and second largest domestic hub, upgrades to the airport's Terminal F were successfully completed last year — creating a fresh, modern experience for regional travelers. Terminals B and C are next in line.
Modernizing a Complex That's More Than 60 Years Old
After expanding Terminal F by 120,000 square feet, US Airways has shifted its focus to operations in Terminal B/C, the hub for mainline domestic, Caribbean and Canadian flights.
These two terminals form the oldest part of PHL's seven-terminal complex. Initial work on Terminal B began in the late 1950s and the complete Terminal B/C complex officially opened in 1970. In 1998, the complex was renovated to include new retail and food outlets, plus a 25,000-square-foot US Airways Club. However, little modernization has been carried out since this renovation 16 years ago.
Our team will manage a modernization project for Terminal B/C that will include modifications to the security screening lanes, a more efficient passenger check-in process, in-line baggage screening and upgrades to existing facilities, including HVAC.
New Design Technology Makes It Easier to Collaborate
With so many new and innovative products available to streamline air travel — from the check-in process to security — choosing the best tools for an airport modernization program is no easy task.
The project team will design a concept for the modernized terminal by looking at the technology available and evaluating what works well, and what can be improved, at other airports worldwide.
Some of the options being considered include:
Self check-in and self-service bag drop facilities, including a baggage drop at the parking garage
Hold rooms similar to high-end lounges, with restaurant facilities and iPads at every seat
Security checkpoints with specific lanes designated for passengers who have already been cleared, crew, etc.
Highly advanced baggage screening systems
A transport system that connects Terminals B and C with the rest of the airport complex.
Collaborating on a conceptual design is easier today than it was just 10 years ago. Thanks to 3-D design software, our designers can show airline executives what the renovated terminal will look like. These models allow everyone involved in the project, including airport staff, to better evaluate whether the plans will meet their needs.
Before the final construction documents are agreed upon, the program management and design team will consider all possible conflicts that may disrupt the project schedule, and put measures in place to ensure the whole operation runs as smoothly as possible.
Using Technology to Keep the Project on Track
Once the design is finalized and construction is ready to start, innovative technology will really come into play — to ensure the program progresses on time and within budget.
For a program as complex as this, the management team must guide everything to proceed without complications. Considering the many ongoing airport operations, both the project and management teams will need tools that enable clear communication to keep all parties up to date on schedules, milestones and changes.
Our OneTouchPM® and NoTouch Reporting™ technologies will play a vital role in allowing the program team to maintain schedules, deal with challenges and promptly execute the plan.
This challenging project will transform Terminal B/C and convert the critical hub from outdated to world class.
What are your thoughts on this project? How do you see the role of technology in modernizing air travel? Have you used reporting technologies like our OneTouchPM? We'd love to hear from you in the comments below.
Katherine Goudreau is a vice president in charge of Burns & McDonnell's Washington, D.C., and Philadelphia offices, and has spent the majority of her career working on aviation-related projects. She oversaw the Philadelphia Terminal Expansion project.
A previous version of this article appeared in our 2013 Aviation Special Report — Envisioning the Future.