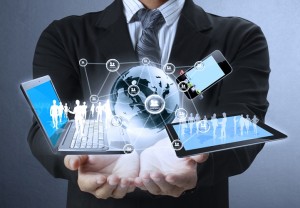 Hailed as being one of the top 10 tech trends for 2014, the Internet of Things (IoT) is a hot topic. Cisco estimates that it has a potential market value of $14 trillion, with one-tenth of that credited to manufacturing, which impacts us in many ways.
According to CB Insights, in 2013, IoT companies secured more than $1 billion in venture capital, an 11% increase from the previous year. The IoT buzz kicked off earlier this year when Google announced its $3.2 billion purchase of a Silicon Valley start-up called NestLabs who create Internet-connected home monitoring and energy management systems.
What Is It Exactly?
The Internet of Things is often referred to as Machine-to-Machine or Machine-to-Mobile. That not only includes the obvious things like smartphones and other mobile devices, it also includes myriad sensor-driven devices, like car keys, watches, alarm systems and temperature control systems within commercial buildings, many of which could ultimately interconnect.
There are many companies already making use of the IoT, like Samsung and GE, who are manufacturing products like smart thermostats and lighting systems using the IoT technology. Until recently, this type of smart connectivity was expensive and difficult to produce. However, thanks to companies like Texas Instruments, Intel and Qualcomm, chips and sensors that connect to the Internet are increasingly becoming both more efficient and more economical.
Tracking Behavior: Good for Business
Embedding products with sensors enables companies to track movement and monitor interactions. With fine-tuning, companies can use this behavioral data to their advantage. For example, car rental companies can embed sensors into vehicles for accurate tracking. Likewise, in the B2B marketplace, some companies are using the IoT to track radio frequency identification (RFID) tags on products as they move through the supply chain. This not only improves inventory management, it also reduces capital costs.
The number of uses for IoT tracking is growing. In the aviation industry, for example, sensor technologies have influenced new business models. Thanks to IoT technology, airplane manufacturers are building airframes with sensors that send continuous data to their computers to update on the level of product wear and tear. This allows air carriers to better monitor fleet condition and act quickly upon the first signs of deterioration.
Control from the Comfort of Our Own Homes
The IoT already has the ability to control technologies in our homes and would certainly have its advantages for controlling equipment like HVAC systems and washing machines. What's more, the IoT can educate consumers about energy use, promote behavior change and, ultimately, save money. We're already seeing that with the integration of smart meters in the utility industry and consumer adoption of devices like Nest. The ability to clearly see energy use and its financial implications in real time can go a long way toward effecting change. The same is true from a commercial property standpoint, as technological innovations make building management, maintenance and energy use easier to monitor and control.
The IoT can also play a significant role in hospitals. By implanting RFID sensors into human subjects, doctors and surgeons are able to gather data about the body that can benefit patients. The information can then be uploaded to servers for more analysis. One example: the ability to monitor elderly patients living on their own, helping to ensure they're safe, delivering better care and reducing the need for hospitalization.
What Does the Future Hold for the IoT?
The future is definitely bright, but the IoT may have some way to go within business enterprises. There are the not-so small details of policy and technical challenges that need to be considered before systems can be fully embraced. Innovators will need to quantify value, which takes time, and regulators will need to take a close look at privacy laws and data protection.
Leading technology manufacturers will need to update products to be fully compatible with the IoT, and they'll need to evolve their standards so that data can be collected from a wide range of systems and devices.
What do you think about the Internet of Things and how it will change our lives? How will it affect the way we do business? Do you have privacy concerns about this technology? We'd love to know what you think.
Other posts you might like:
PG&E Customers Compete Using New Social Energy App