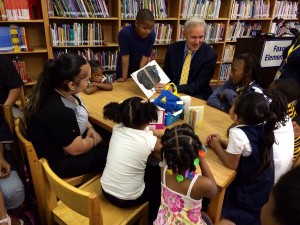 All across America, children from low-income communities are entering kindergarten without the basic early literary skills necessary for lifelong success. Unfortunately, the Kansas City area is no exception. Of the 15,000-plus children in the Kansas City Missouri School District, only 19% of third graders are considered proficient in reading. The Urban Neighborhood Initiative (UNI) is doing its part to tackle this national epidemic of childhood illiteracy, starting right here in our own community.
To fight the statistically high dropout rate and low academic performance of children in low-income areas, UNI is working with community groups to target the area's biggest problems and devise ways to maximize educational opportunities for local residents. The UNI team has paid particular interest in early and extended learning programs that will establish a long-term system of improved development and academic success.
Moving the Needle on Childhood Illiteracy
We can't afford to just stand back and let our children fall victim to statistics, and I'm committed to making sure that doesn't happen. That's why the Burns & McDonnell Foundation has pledged $50,000 per year through 2018 to help UNI move the needle on childhood literacy rates in Kansas City.
The grant money will help UNI, in partnership with the United Way of Greater Kansas City, bring the world-famous Dolly Parton Imagination Library to Kansas City's east side. The Imagination Library provides children with an age-appropriate book every month from birth until their fifth birthday. It's estimated that more than 750 children in the UNI neighborhood are eligible to receive books through the program's free home delivery service.
The Imagination Library team has selected a variety of high-quality and age-appropriate books for children ages 0-5, focusing on the idea of inspiration and imagination. All of the books used in the program reinforce themes like a love of reading, a respect for diversity of people, their roles and culture, promotion of self-esteem and an appreciation for the arts.
Since its inception in 1995, the Imagination Library has mailed more than 60 million books to children around the world and has made dramatic improvements in literacy for children enrolled in the program.
Along with the Imagination Library, the grant will allow UNI to establish a Success by 6 (Parent Resource) Center at Faxon Elementary School. Success by 6 aims to ensure every child in the community is healthy, safe, nurtured and enters school ready to succeed.
The center will provide training and educational materials for parents and will feature a Toy and Resource Lending Library filled with educational toys and books appropriate for children up to age 8. All materials are available for checkout free of charge to anyone who works or lives with children — infants through third graders — in Clay, Platte, Cass and Jackson counties.
The Importance of Literacy in Early Childhood
Literacy Kansas City reports that more than 225,000 adults in the greater Kansas City are functionally illiterate, which is defined as reading at a sixth-grade level or below. This is a frightening number when you consider the cycle of illiteracy for children of parents with low reading skills.
Research shows that one out of every six children who can't read proficiently by the third grade will ultimately drop out of school or won't graduate on time. Those odds are four times worse than for peers who read proficiently.
A Big 5 Initiative
UNI is part of the Greater Kansas City Chamber of Commerce's Big 5 initiative, which has worked to raise the Kansas City area onto the world stage and make the region one of the country's best places to work, live and raise a family.
The Big 5's community-based projects work with local organizations and citizens to inspire innovation in our city, producing programs like this literacy initiative to improve education and bring a better quality of life to Kansas City.
It's important to remember that childhood illiteracy is a serious problem that affects all of us in the Kansas City area, not just parents, and certainly not just those in the UNI neighborhood. By supporting programs like the UNI and the Dolly Parton Imagination Library, we can all help to ensure the sustainability and progress of Kansas City's future.
Join me in writing the success story of education for countless children around the Kansas City area by donating to the Urban Neighborhood Initiative and spreading the word about the amazing impact this organization is making in our community.
A hero's journey is impossible without the help of others, and the young heroes and heroines of Kansas City need the combined support of everyone in our community to reach their full potential.
Greg Graves is the president and CEO of Burns & McDonnell.