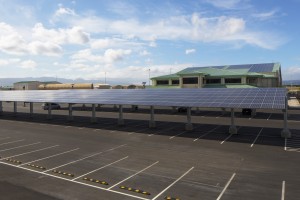 The topic of energy savings for the military isn't new, but in light of recent budget cuts for the U.S. Army, there's a renewed focus on lowering operations costs for new and existing National Guard facilities. Top it off with a government mandate to design all new National Guard buildings to meet Leadership in Energy and Environmental Design (LEED®) standards, and that can lead to big energy savings for military buildings.
When a building achieves LEED certification, it demonstrates that it meets environmental goals for sustainability, which inherently lowers operations costs in the form of reduced energy waste. Part of obtaining LEED certification involves a rigorous commissioning process where an independent commissioning agent determines that it is designed, constructed and delivered with its systems working the way they're intended according to the owner's requirements.
In order for a project to earn LEED certification, there are specific prerequisites it must satisfy, and points are awarded based on those prerequisites. The number of points the project earns determines its level of LEED certification.
Because of the complexities involved in designing a building to the highest certification level, it's often cost-prohibitive for projects to achieve LEED Platinum status. But a newly constructed squadron operations facility in Hawaii recently became the first Air National Guard facility to earn LEED Platinum certification. And it didn't break the bank in the process.
With sustainability at the forefront of planning this facility at Joint Base Pearl Harbor-Hickam, it's setting the standard for superior sustainability for squadron operations.
Through a combination of photovoltaic (PV) panels on the roof and solar panel-covered parking shade structures, our team helped generate a 75 percent reduction in energy use and offset electrical costs by 60 percent. PV systems are often too expensive to install and offer little ROI. But with the high cost of electricity on the island, and abundant sunshine, it paid off here. This facility not only achieved LEED Platinum status, it also exceeded the Energy Policy Act's mandated 40 percent savings with help from high-efficiency HVAC systems, controls, a superior building envelope and smart metering.
The energy saving benefits of LEED aren't limited to new buildings. Existing National Guard buildings can also benefit from LEED through a process called LEED for Existing Buildings: Operations & Maintenance (LEED EBOM), where a previously constructed facility undergoes the LEED certification process to reduce operations costs and enhance energy efficiencies. And when done right, it can yield the impressive results that we saw with the Hickam project.
What is your experience working with LEED? Have you seen significant benefits in the form of energy savings? How do you see the role of LEED changing, if at all, in the face of budget cuts for the military? I'd love to hear your thoughts on this. If you'd like to discuss further, let's connect on LinkedIn.
Pete Karnowski, LEED AP, is the Army National Guard program manager and senior project manager in the federal division of Burns & McDonnell. As a retired colonel with more than 26 years of military service, he understands ARNG requirements and procedures at state and national program levels. He has extensive experience with the ARNG Design Guides, NG Pamphlet 415-12, NG Regulation 415-5 and United Facility Criteria.
Other posts you might be interested in:
3 Reasons Facility Managers Should Care About Commissioning
US Military Soldiering Up With Energy Efficiency and Renewables Implementation
Military Facilities Reap Huge Benefits From Using LEED, Says Independent Study