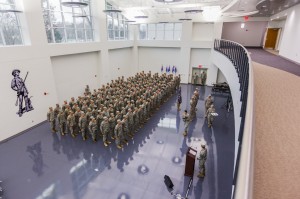 Two weeks ago, I was in Chicago for the 136th Annual National Guard Association of the United States (NGAUS) Conference. It's the must-attend event for anyone who works in the defense industry, particularly with national security and disaster response. I've found this conference to be the best opportunity for exchanging information with our citizen soldiers and colleagues from around the country, specifically as it relates to the National Guard and the companies that support it.
The theme of the conference was The National Guard: Now More than Ever, which is the same message the organization has lived by throughout the year. Tight budgets and winding-down wars are changing the defense landscape, and the Guard is a common-sense, cost-effective, ready-to-work solution. Most speakers addressed the conference theme and other military and homeland security issues, including overseas operations, domestic missions, equipment modernization, current fiscal challenges, and future Guard roles and missions.
The one speaker who stood out to me was the keynote, Sen. Lindsey Graham, R-S.C. In his powerful message, he said the country may be overlooking the severity of current threats because it is tired of war after 13 years. He asked NGAUS members to help him convince citizens and lawmakers that now is not the time to cut military spending, referring back to the theme of the conference. You can view his full speech, along with the speeches of other presenters, on the NGAUS YouTube channel.
I had the opportunity to speak with many National Guard leaders about facility issues common to the United States and its territories. Our discussions focused primarily on how facility issues affect the readiness of our soldiers, who perform state and federal missions like disaster response and overseas deployments. The National Guard is seen by many as the most relevant force for responding to 21st century challenges. But many of the National Guard facilities were built in the '50s and '60s — during the Cold War — and aren't up to current health and safety codes. Our soldiers are expected to train, be war-ready and immediately respond to natural disasters or crises, but have mostly aging facilities without a lot of space or today's technology — both of which are requirements for a successful facility and both of which are vital to troop readiness.
Key leaders also inquired about the types of architect-engineering-construction and energy projects being performed to support facilities for our citizen soldiers, and how we can help the National Guard save money through sustainment, restoration and modernization (SRM) projects, energy-savings measures, the microgrid, renewable energy projects and technology. By designing buildings to meet LEED standards, projects can realize significant energy and cost savings. For example, a newly constructed squadron operations facility in Hawaii was the first National Guard building to earn LEED Platinum certification, resulting in a 75 percent reduction in energy use and offsetting electrical costs by 60 percent.
As a retired military colonel myself — and having worked with the National Guard for decades — I always look forward to reconnecting with past colleagues and making new connections within the National Guard corporate support community. It was great to see the variety of companies represented at the conference, including small and large businesses, each providing a unique contribution to support the National Guard. Many admirably employ former Guard personnel.
Did you make it to the NGAUS Conference in Chicago, too? If so, I'd love to hear more about your key takeaways. Drop a note in the comments below, or feel free to connect with me on LinkedIn.
Pete Karnowski, LEED AP, is the Army National Guard program manager and senior project manager in the federal division of Burns & McDonnell. As a retired colonel with more than 26 years of military service, he understands ARNG requirements and procedures at state and national program levels. He has extensive experience with the ARNG Design Guides, NG Pamphlet 415-12, NG Regulation 415-5 and United Facility Criteria.