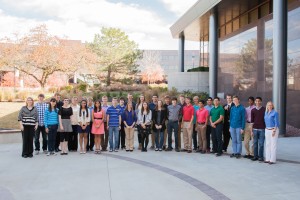 With the excitement of the upcoming Battle of the Brains big reveal reaching its peak, we reached out to the winning group of students from Olathe North High School to ask for their reflections on winning the Battle of the Brains. Griffin Karr, a junior at Olathe North, shared his perspective on the whirlwind experience:
"There's a soft spot in my heart for Science City. Ever since I was little, I have enthusiastically explored the exhibits; I remember spending way too much time in the Mr. E Optical Illusion Hotel, and I remember impatiently waiting for the year I'd finally be tall enough to ride the sky bike across the 30-foot high wire.
Everything I saw completely blew my mind, and even as I got older and the magic of the museum faded, my fascination and curiosity held strong.
These past two years, I've had the amazing opportunity to come back to my childhood play-place, but this time, I got to experience the wonder of Science City from the other side. Working with my Distinguished Scholars Science class at Olathe North, we had the chance to imagine our own exhibit, adding new ideas that both entertain and inform.
As a team, we were given the opportunity to research a topic and apply it to an innovative project design for Burns & McDonnell's Battle of the Brains competition.
The grand prize included a science grant along with the unimaginable honor of having our exhibit become a reality.
Countless hours of work went into that proposal. We spent weeks brainstorming, planning and researching, and then even more days were spent scrutinizing every final detail; choosing just the right words to put our dream on paper.
Every step of the way was a thrill, as our school made it through the preliminary judging and continued on to the fan-favorite voting. When we finally heard our school's name called at the award ceremony, we were all filled with an overwhelming feeling of satisfaction and excitement.
We had made it to one finish line, but ahead of us was an equally exciting journey to see our abstract idea transformed into a very real reality.
Following our win, our team was welcomed into the Burns & McDonnell conference room, where we were honored with the opportunity to personally meet with the heads of Burns & McDonnell, Union Station, and Science City, as well as a team of engineers, architects and planners from Burns & McDonnell who would be turning our dream into a reality.
From that moment on, the wheels were in motion. Several times throughout the year, we donned our best business professional outfits and made our way to the Burns & McDonnell world headquarters to meet with the design team.
We conducted real research, participated in real charrettes, watched as designers sketched up real design plans, and sat in on real decisions. It was unlike anything I've ever experienced before.
We walked through each stop of the real engineering and architectural process and were actively involved when tough decisions and last-minute design changes had to be made. And slowly but surely the project turned into an absolute work of art.
With opening day approaching, our only wish is that visitors enjoy interacting with the exhibit as much as we enjoyed designing it. I am unbelievably excited to see the final results at the unveiling on Wednesday Dec. 10, and I truly hope that our exhibit opens the eyes of our community to appreciate Earth's greatest resource."
Interested in learning more? Check out the Battle of the Brains website, and follow along on Facebook and Twitter (watch for hashtags #UnlockTheCode and #EveryLastDrop) to keep up with the excitement!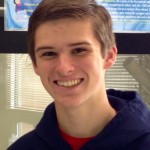 Griffin Karr, feautured fourth from the right in the group photo above, is a junior at Olathe North High School.