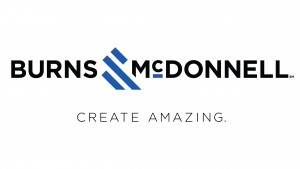 As we welcome in the New Year, I'm happy to announce the beginning of a new chapter in our company's rich history, a chapter that truly reflects Burns & McDonnell's vibrant culture as well as our dedication to success. This new chapter begins with the most visible and dramatic change in our company's history – a new logo.
Since our last logo refresh in 1991, our company has grown – significantly – and so has the world we serve. The previous logo served us well, but it's time for a fresh image that embodies our true spirit. Here's a look at where we came from, and where we're going:
The sleek, stylized ampersand does more than simply link together the names of our founders. It serves as the perfect symbol for our company. It acknowledges the diversity of who we are as a business. We're engineers. And architects. And construction professionals. And scientists. And consultants. And entrepreneurs. And much more.
The ampersand also represents the collaborative relationships that we're fortunate to be a part of. We know what we do is not about us. It's about the partnership between us and our clients, the relationship of our company and the communities we serve, and the drive to do the task at hand and more.
Our business is diverse and so are the challenges we take on. But if we could wrap up everything we do in one sentence, it would be this: Burns & McDonnell is about creating amazing success for our clients and amazing careers for every employee-owner.
In this new chapter we will continue to do exactly that. Our new image encompasses our vibrant company history and culture to truly reflect who we are today and where we intend to take our company tomorrow.
This idea comes to life with our new tagline: Create Amazing. We believe our continued growth is contingent on bringing this idea to life each and every day. Everything we do to support the success of our clients and our company can be seen in what we create. It's as simple as that.
Since our founding in 1898, our drive for excellence has been supported by a fundamental mission to make our clients successful. And as we launch the new corporate brand, Burns & McDonnell's deeply-rooted mission will remain the same.
We stand for solving some of the world's toughest problems with an entrepreneurial spirit. We stand for remarkable solutions and passionate partnerships. We look forward to continuing to build relationships with our clients – old and new – in 2015. And so much more.
For more information or if you have any further questions about the new brand, we encourage you to email our Corporate Communications Manager, Kristi Widmar at klwidmar@burnsmcd.com.