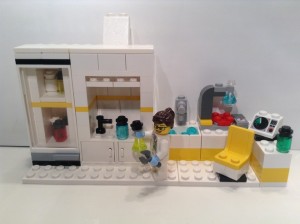 It's no secret that we're big supporters of STEM education, especially when it comes to attracting more girls to the field. But we're also big fans of Legos — and who doesn't love Legos? When you combine the two, Legos can be a great tool for teaching kids about STEM (science, technology, engineering and math) fundamentals. So imagine our excitement when we learned about an amazing Lego prototype developed by one of our very own engineers that's in the running to become one of the newest Lego sets!
Angela Vawter is a chemical engineer here at Burns & McDonnell, and she shares our passion for encouraging girls to explore STEM-related careers like chemical engineering. It's this passion that inspired her to launch a Lego prototype last year with the hopes of it making it to the LEGO Review board to be considered for mass production.
So what's her great idea?
It's a chemistry set that mimics a real-life lab, with an emphasis on safety, where budding scientists can whip up a variety of experiments and concoctions. Her set features a chemical cabinet with a moveable door, a fume hood with vacuum nozzle, safety clothing, yellow safety trim and colorful bottles and flasks. The star of the lab is a female scientist, but the interactive set appeals to boys and girls alike.
What we love most about Angela's Lego prototype, aside from the obvious STEM connection, is its simplicity. Her set isn't particularly fancy, but that was intentional. She wanted to keep it simple so it would be affordable — and doable — for kids to construct. Chemical engineering can be tricky enough, so she stuck to the basics.
For her project to move to the next stage and be considered for production, Angela needs to collect 10,000 votes of support for her proposed set by Aug. 7, 2015. And that's where you come in!
If you're as passionate about STEM education and Legos as we are, hop on over to the Lego website and show your support for Angela's Lego Chemistry Lab. Voting is free, and only requires a quick registration.
Cast your vote here: Lego Ideas: Chemistry Lab Project. Help make Angela's concept a reality! And after you've voted, we'd love to hear what you think about Angela's project!
Photo Credit: LEGO Ideas