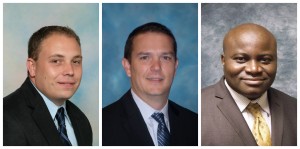 At Burns & McDonnell, we think our employee-owners are pretty special, so it's nice when a major trade publication feels the same way. Three of our team members were recently named to Engineering News-Record (ENR)Top 20 Under 40 regional lists.
Jason Cabral and Jason McCreary (pictured left and center, respectively), from Burns & McDonnell's New England office in Wallingford, Conn., are among the honorees on ENR New York's Top 20 Under 40 list. Dotun Famakinwa (pictured right), from our Atlanta office, earned a place on the ENR Southeast list.
ENR's Top 20 Under 40 highlights future industry leaders — people in the heart of their careers who demonstrate qualities like leadership, career progress, community involvement and performance on landmark projects.
Jason Cabral, Project Manager, Transmission & Distribution Group
Jason Cabral has managed some of the largest and most complex electric reliability projects in the country. As project manager on the Greater Springfield Reliability Project, he led the first of four major transmission upgrades in the extensive New England East-West Solutions program for Northeast Utilities. He's currently managing FirstEnergy's Large Transmission Project Program, where the Burns & McDonnell team performed so impressively it earned the firm a role on another large initiative for the client called Energizing the Future.
His leadership extends to his community efforts. In addition to contributing to the United Way and supporting tornado victims, Jason set up a toy drive for the Akron Children's Hospital, an effort he plans to make an annual initiative.
Jason McCreary, Department Manager, Transmission & Distribution Group
Jason McCreary's 12-year career at Burns & McDonnell has included work on utility projects around the world. But as ENR's Dave Gershgorn writes, "his current position as department manager of the firm's transmission and distribution engineering group has distinguished him with his peers and bosses." In the Northeast and Canada, the firm manages more than $7 billion in infrastructure projects, which presents plenty of challenges to Jason and the group he manages in Wallingford. His leadership results in increased power reliability and efficiency for our clients.
Jason extends his mentorship to the next generation of engineers, working with school science and engineering groups to mentor young students. He is also an active supporter of United Way.
Dotun Famakinwa, Substation Department Manager, Transmission & Distribution Group
Down the coast in Atlanta, Dotun Famakinwa has made a serious impact during his six years at Burns & McDonnell. A talented engineer and manager, he manages a team of 18 employee-owners and coordinates projects for Southern Company, Duke Energy Progress and Duke Energy Florida. Dotun is regularly tapped to lead roles on a range of key projects, including power plant system upgrades and industrial distribution system upgrades, both vital to the electrical infrastructure of the region.
Dotun exemplifies the distinctive Burns & Mac culture, as demonstrated by his three-peat of our Blue Quill award,which recognizes our employees who make presentations or write articles for conferences or trade publications. Actively involved with the United Way and the Atlanta Ronald McDonald House Charities, his commitment to human rights, education and children is central to his volunteer efforts.
Congrats to these three outstanding Burns & McDonnell employee-owners and all of the honorees on this year's ENR Southeast and ENR New York lists! We wish you continued success throughout your careers.