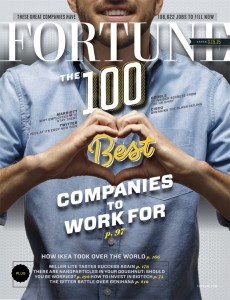 At Burns & McDonnell, we already feel pretty great about coming into work every day. But do you know what makes us feel even better? Coming into work to learn we've once again been named one of FORTUNE magazine's 100 Best Companies to Work For! And this year we landed at no. 15 on the list.
Now in its 18th year, the FORTUNE list shines a light on exceptional workplace culture. In partnership with the Great Place to Work® Institute Inc., the magazine selects 100 companies that have developed that special combination of communication, camaraderie, community involvement and motivation.
The selections result from an extensive employee survey measuring levels of trust, pride and camaraderie in the workplace. The scoring also includes a culture audit, with detailed questions about pay and benefit programs and open-ended questions about hiring practices, internal communication, training, recognition programs and diversity efforts.
The FORTUNE survey recognizes companies that have elevated the corporate culture, building a trust-rich environment that helps strengthen the business. As a 100 percent employee-owned company, the concept of collaborative effort and mutual respect leading to overall success is familiar territory.
This recognition is a big motivator for us. We all work to create amazing things every day, so to be recognized for that is pretty, well, amazing. We're proud, but also inspired to keep focusing on the things that make Burns & McDonnell a special place to work.
The most significant factor in that equation is our employee-owners, who have earned a huge THANK YOU for committing fully to collaboration and making a difference in the world. It's their effort that has put us among the likes of Google, Quicken and Intuit for four consecutive years.
You can check out the complete list of the 2015 FORTUNE 100 Best Companies to Work For here. Congratulations to the other companies on the list, who inspire us with their approaches to workplace excellence!
As we celebrate, we'd love to hear from you: What makes your company a great place to work? Share your stories in the comments.
Greg Graves is the president and CEO of Burns & McDonnell.