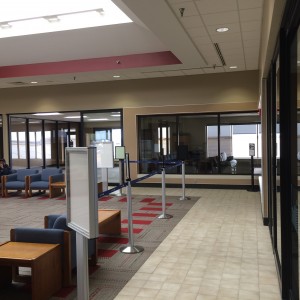 Northwest Kansas might not be the first place that comes to mind when you think of a travel hotspot, but for the residents of Hays, Kansas, having a full-service airport is more than just a convenience — it's a necessity. And thanks to a $1.6 million terminal renovation and expansion designed by the team at Burns & McDonnell, passengers traveling through Hays Regional Airport can now enjoy many of the same modern amenities as larger metropolitan airports.
The Need for Expansion
With many of the airport's existing systems nearing the end of their service lives and the airport operating at maximum capacity, it was clear that Hays Regional needed a facelift.
The modernized facilities include a new lounge, security areas, restrooms, baggage claim conveyor system, a new roof and upgraded HVAC systems. The new flexible lounge space can easily be configured to maximize secure holdroom capacity or reconfigured to increase the public lobby when needed, for example to accommodate a shift in traffic from a turbo-prop plane to a regional jet. The renovated space also boasts an enlarged TSA screening area that can accommodate new equipment and screening procedures.
The upgraded facilities will allow for more efficient airport operations for not only airport operators but also airline and security staff. The new systems will also help reduce operating costs through energy savings and lower maintenance costs.
Boon to the Local Economy
For the local Hays economy, these upgrades came at just the right time. After SkyWest dropped a daily morning flight to Denver earlier this year, passengers weren't happy about losing the convenience of flying direct from their community to a major U.S. city.
Hays Mayor Henry Schwaller IV stressed the importance of the regional airport to the local community, saying it links businesses to their customers and suppliers around the world. "People fly into this airport from London, China, Hong Kong and India to do business here in Hays."
The community relies on the airport for its economic vitality and will benefit greatly from the airport's added capacity, which is expected to lead to an increase in commercial air service into and out of Hays. In fact, SkyWest has already reinstated its regular morning flight to Denver, and it's looking like nothing but clear skies for the future of Hays Regional Airport.
As a project manager, it's always my goal to deliver more than we promised to our clients, which is part of what makes completing this project three weeks ahead of schedule and under budget so rewarding. But even more rewarding is knowing that this project will keep the Hays economy competitive.
Have you had a chance to travel through the newly renovated Hays terminal? If so, I'd love to hear what you thought of the new facilities. And if you're an airport operator looking to make upgrades to your passenger terminal, no matter how big or small, we should talk. Feel free to reach out to me via email or comment below.
Dave Hadel is director of aviation service at Burns & McDonnell. He specializes in transportation engineering, site development, pavement and drainage design for aviation and industrial facilities. He is experienced in managing FAA-funded projects, preparing capital improvement plan data sheets, assisting with applications for federal assistance and implementing Airport Improvement Plan record-keeping practices.