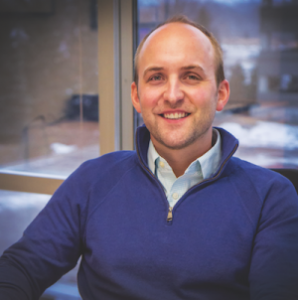 Professional Builder's 40 Under 40 Awards spotlights up-and-comers in the building industry, identifying the next generation of leaders and doers. We aren't surprised to see our own Jay Wiederholt on that list. A senior architect in our Minneapolis-St. Paul office, Jay is a trailblazer in sustainable design.
The editors of Professional Builder were impressed with the career accomplishments and back stories of the nominees, all under the age of 40. And Jay's story is no exception.
A staunch supporter of the passive building design movement, Jay co-founded the Minnesota chapter of the Passive House Alliance in 2010 and serves as its president. The highest certified building energy standard in the world, Passive House aims to reduce the total energy consumption of buildings by up to 90 percent while improving user comfort and indoor environmental quality.
Focusing on energy conservation, passive building guidelines minimize heat loss through effective retention and maximize passive solar and internal gains using a high-performance building envelope. Through his leadership in Passive House Minnesota, Jay has volunteered numerous hours to educate the building construction community on aspects of the North American Passive Building Standard.
He also applied these principles as designer of the Arden Hills Readiness Center for the Minnesota Army National Guard. Within its 64,500 square feet, the center supports more than 200 soldiers, including 14 full-time center staff. Designed to LEED Silver standards, the building is sited with an east-west orientation to maximize daylighting.
Other sustainable measures include continuous thermal insulation, a ground source heat pump with a vertical geothermal well field, low-flow plumbing fixtures and energy efficient lighting. The result? A very low energy use benchmark of 35,000 BTU/square feet/year (a common measure of energy use intensity) and an energy savings of 49 percent over an ASHRAE 90.1 baseline.
Jay not only thinks big, he applies that big thinking to projects. Congratulations to him and all the honorees on this year's Professional Builder 40 Under 40 list. We can't wait to see what you achieve throughout your careers.
Do you want to congratulate Jay or learn more about passive building? Comment below or reach out to him on LinkedIn.