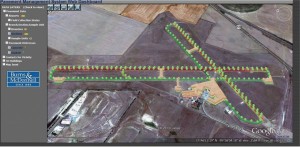 Managing an airport is a complex business in the best of times. The sheer volume of passengers passing through, traffic in the air, and the constant pace of activity on the ground make it a bustling beehive of activity. A construction project can bring all this action a short step away from chaos — unless there's a strong project management system in place.
An Airport Can't Close for Renovations
Philadelphia International Airport (PHL) is the 26th largest airport in the world, serving the fifth largest U.S. metropolitan area. It's a major hub for flights to Europe, the Caribbean and across North America. It's also a perfect example of an airport where construction can't impede the flow of travel.
In 2012 alone:
Approximately 30 million passengers passed through PHL's seven terminals.
Planes made a staggering 443,236 takeoffs and landings.
More than 141,000 people were employed by the airport itself.
Two hundred businesses — and their employees — set up shop daily.
Any construction project taking place amid this flurry of activity will inevitably be complex. That's where a program like our proprietary project management operating system, OneTouchPMTM, comes into play. As PHL continues to modernize the its oldest terminals over the next few years, this project management technology will provide a thorough overview of each project component in real time, ensuring that everyone involved is up to date.
OneTouchPMTM Builds on Systems That Already Work
In the early 1990s, we managed the Lambert-St. Louis Airport Development Program and used that experience to design OneTouchPMTM. It was really all about creating a project management system that could help manage complex construction programs and simplify life for everyone involved — and make projects and communication throughout the team more efficient and effective. More recent projects, like the Kansas City International Airport Terminal Improvement Program in the early 2000s, have benefited from this innovative system.
OneTouchPMTM pairs contract management software with Google Earth, integrating data from numerous sources into one information system. It provides decision makers with an accurate overview of a project and enables them to make more effective decisions based on real-time data.
Through the length of a construction project, this system efficiently delivers essential information — including schedule, cost and progress reporting — to project stakeholders. It's ideal for airport-wide projects like asset management, pavement evaluations and renovations of terminals or other facilities. What's more, reports are easily customized to suit individual needs.
Mobile Is No Longer a Perk
Mobile devices are ubiquitous, and construction sites are no exception; people are constantly on the move and aren't always an arm's reach from a desktop computer. OneTouchPMTM integrates mobile solutions, including web-based information access and an iPad interface. This mobile access enables real-time information uploads like material specifications and changes, photographs, design updates and subcontractor notes.
Building the Data for Future Use
An incredible amount of data is generated during a construction project, and OneTouchPM TM integrates existing data into its platform. That database then becomes a valuable resource that can inform other aspects of airport operations, security and maintenance.
Functionality and Features: Here's How It Works
OneTouchPMTM easily integrates into almost any operating system at an airport — or any other business, for that matter. It compiles information and reports it in a way that isn't available when various management systems can't communicate; it's a common dashboard, so users can find the information they need to make informed business decisions.
Key data and tools that are integrated into the system include:
Design data — CAD and BIM design information
GIS data — File-based data and enterprise GIS geodatabase systems
Project controls data — Project scheduling and status tracking tools, such as Oracle's Primavera
Asset and maintenance management data — Software systems such as Hansen, InforEAM and Maximo, which are used in facility operations and maintenance
Mobile data tools — Tools that enable access to key data, with the ability to modify while in the field, and allow use even without a live Internet connection.
Controls system data — Facility control data from SCADA systems, such as access control systems, fire alarms and security camera systems
There's a lot of talk today about big data, but to us, the little data is what matters. And all the little data from projects, key pieces of information collected every step of the way that each member of a project team can access at any time, in real-time, are what help deliver projects on budget and on time.
What do you think about project management operating systems for large construction projects? Have you used any that you've really liked or had great experiences with? If you want more information on OneTouchPMTM, don't hesitate to reach out to me on LinkedIn or send me an email — I never get tired of talking about how awesome it is and how much value it can add to construction projects.
Bret Pilney is vice president of Burns & McDonnell's Aviation Group. He has more than 30 years of experience working with aviation-related projects ranging from airfield development to terminal and facility improvements.
Other resources on this topic:
Airspace Awareness Tool, Making Complicated Airspace Easier for Developers
Technology: Making Environmental Compliance Monitoring Easier and More Effective