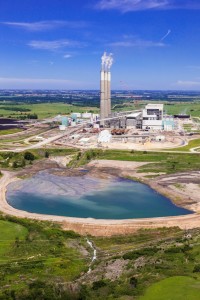 A long-anticipated EPA regulation covering coal combustion residuals (CCR) at power plants will begin to affect facilities this fall, potentially leading to the closure of a number of CCR ponds and landfills in the next few years. Will your facility be affected?
Understanding the regulation can help you prepare for potential changes. Will you want to make the investments necessary to continue operating your plant over the long haul? Or will another solution make more sense? Regardless of the direction, attacking the issue early is vital. Recently, we conducted a webinar to examine several topics associated with the new EPA regulation.
The Basics of the New EPA Rule
CCR is fly and bottom ash, boiler slag or flue gas desulfurization (FGD) materials generated by coal-fired power plants and not repurposed for beneficial use. New EPA requirements under the CCR rule begin on October 14.
A few basics of the rule:
Operators must meet both the new federal minimum standard and their state standard, which may be more restrictive.
The EPA will not enforce the new rule, relying rather on private citizens and groups such as the Sierra Club to file a lawsuit to ensure compliance.
The rule does not apply to:

Landfills no longer receiving CCR residue after the effective date of the new regulation
Closed CCR impoundments
Inactive ponds closed by April 2018
CCR units at facilities no longer generating electricity by the effective date
Nonutility operations such as manufacturing plants, hospitals or universities
CCR placed in coal mines or disposed in municipal landfills, or being beneficially used (Beneficial use examples include fly ash used as a Portland cement replacement for concrete or to manufacture wallboard or roofing shingles.)
CCR coming from power plants using fuel blends with less than 50 percent coal
Evolution of the Rule
The rule has evolved from earlier proposals into the final regulation, including a decision not to include CCR in the hazardous waste category. This decision has been a source of disagreement. Environmental activists argue coal ash contains heavy metals like lead and mercury and should be designated as hazardous. Utility groups support the less stringent categorization, which allows the recycling of coal ash into building materials like concrete and wallboard.
Other changes include:
Modifying the aquifer location restriction to five feet or more from a CCR unit
Removing the liner requirement for existing impoundments
Extending the groundwater schedule from one year to 30 months
Allowing alternative liners for new facilities and closures
Requiring operators who fail to meet restrictions or groundwater protection standards to close rather than retrofit
Extending time frames for closure
Redefining an inactive pond as having no CCR added within 36 months of the published regulation date
Working on Solutions
Many power plant operators will see the need to start planning today. By October 2015, operators should initiate weekly inspections, prepare dust control plans and containerize CCR piles. December is the time frame for the installation of markers at impoundments and the preparation of closure plans for inactive ponds. Annual inspections should be initiated in January 2016.
Operators should also develop an overall compliance strategy and groundwater monitoring program, as a potential of eight samples will be required by October 2017. Ponds are typically the key to overall plant water balance. There's also overlap between effluent limitation guidelines, the federal CCR rule and state water quality criteria. This regulation drives several potential projects, from water balance optimization and ash handling conversions to wastewater treatment systems and new landfills.
Case studies covered in the webinar illustrate the range of solutions.
For power plants that have been converted to natural gas and no longer generate or store CCR materials, the new CCR rules require the operator to close and clean any inactive ponds. Groundwater monitoring is not necessary for the EPA, although some states may require it.
For smaller power plants, those generating less than 200 MW, two exemption options were discussed: Close the plant by October 2015 or have CCR units that have and continue to use less than 50% coal to generate electricity. Under either option, ash disposal at landfills must stop by October. If a pond is used, material disposal must stop in October and the pond must be closed by April 2018.
Operators of smaller plants can commit to retiring the plant and begin corrective action to avoid groundwater contamination. Plants with disposal ponds that cover less than 40 acres have until 2023 to cease operation and complete closure, while those with ponds larger than 40 acres have until 2028. Plant operators can decide to build a new impoundment pond, but that solution may require a new state permit and risk groundwater contamination from the previous facility.
Operators of large, flagship power plants exceeding 400 MW can choose to close existing ponds and begin seeking a permit for a new landfill. That permit process takes five years in many states and is not a guaranteed option. Obtaining equipment could also cause delays because of the increased demand brought on by the EPA ruling.
Operators of large plants can also choose to delay action, though they must plan for wet-to-dry conversion and wastewater discharge. A conversion study with a closure plan may be necessary, along with justifications for an alternative closure schedule. If the CCR impoundment pond is lined, it may require examination in light of groundwater monitoring requirements.
The new CCR rules will require a thoughtful response from many operators, and demonstrating a good-faith effort may help gain more time to prepare a solution. How will these rules affect your operation? Share your thoughts in the comments or connect with me on LinkedIn.