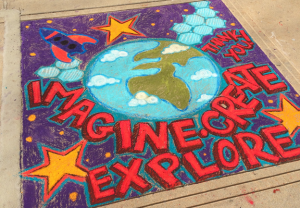 A panel of judges from Burns & McDonnell and Science City have officially announced the finalists for the 2015 Battle of the Brains competition — and now it's time for you to vote!
The top 20 finalists are one step closer to seeing their big idea become a reality as part of this Kansas City metro area STEM education initiative, now in its third iteration. Past winners have seen their exhibits come to life at Science City, and these groups of students are hoping for the same fate. They'll go head-to-head in a public vote where it's up to YOU to help decide the winners in the elementary and secondary divisions!
One lucky group of students will get the opportunity to work with Burns & McDonnell's architects, engineers and construction managers to make their concept a reality in Science City's first outdoor exhibit!
We were absolutely blown away by the amount and quality of entries this year. Reviewing more than 500 proposals from 200-plus area schools made the judging process difficult! A big congratulations to each and every participant in this year's competition, from the teachers and students to the Burns & McDonnell mentors who helped guide the teams.
Without further ado, here are your 2015 Battle of the Brains finalists!
Elementary Finalists
Ants Enlarged: Learning from Ants by Bell Prairie Elementary-SAGE Program
Camp STEM ... Science, S'Mores and More by Rosehill Elementary
How it Works: Backyard Science by Stilwell Elementary School
It's All in Your Head by Longview Farm Elementary
Let's Get Ready to Rumble by Cordill Mason Elementary
Mission to Saturn by Green Springs Elementary
Not-So-Simple Simple Machines Playground by Mason Elementary
Road Ready: The Science of Bridges & Byways by Bonner Springs, Delaware Ridge and Edwardsville Elementaries
Survive! by Valley Park Elementary
Uniquely Kansas City by Highlands Elementary
Secondary Finalists
A Bug's Eye View by Pleasant Hill Middle School
Cultivating the City by Pleasant Ridge High School
Electri-City by Belton High School
Every Which Wave by Olathe North High School
Know Your Enemy by Oxford Middle School
Liftoff!KC by Gardner Edgerton High School
Living in a Material World by Olathe Northwest High School
Nature's Fault by Summit Technology Academy
Newton's Playground by Pleasant Hill Middle School
Simple Six by Drexel High School
How to Vote
The public voting period begins November 7 and runs through midnight on November 14. Each email address can vote once every 24 hours for their favorite finalist. The judges' score accounts for 70 percent of the final rankings — which means the remaining 30 percent is up to the public voters!
To explore the finalists and cast your vote, check out the Battle of the Brains website!
Click on each exhibit name to read a summary, watch a video and check out the full proposal. You can vote either from the overview grid pages or the specific entry page. When you click vote, you'll be asked to log in — just enter your email address. It will take you back to the voting page where you can cast your vote.
Remember to vote often! This is your chance to help determine the next great exhibit coming to Science City and show your support for STEM education in Kansas City.
Congratulations to all the finalists, and best of luck!