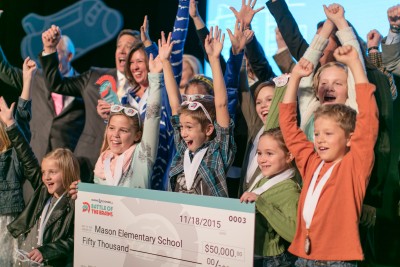 Drumroll please… From everyone at Burns & McDonnell and Science City, we're excited to name Mason Elementary (elementary) and Pleasant Ridge High School (secondary) the division champions of the third Burns & McDonnell Battle of the Brains competition!
The Burns & McDonnell Foundation distributed $155,000 in STEM education grants to the top 20 finalists, including the $50,000 top prize to both Mason Elementary and Pleasant Ridge High School.
But for Mason Elementary, the good news didn't stop there. The lucky Lee's Summit elementary school was awarded the ultimate honor of having their proposal transformed into a million-dollar exhibit at Science City!
More About the Grand Prize Winners
Mason Elementary students' submission, "Not-So-Simple Simple Machines Playground," earned the grand prize for their exciting exploration of simple and compound machines. The inventive proposal features a variety of larger-than-life machines, including a tornado slide that resembles a giant screw, a pulley-powered zip line seat and a merry-go-round that looks like a giant tire. Visitors to this future exhibit will test physics on seesaws and explore effort and resistance force with different levers. See for yourself what these students came up with, and what you can expect to see at Science City next year.
Students from Pleasant Ridge High School in the Easton (Kansas) School District won in the secondary category with their submission, "Cultivating the City," a collection of green technology showcasing urban agriculture at its finest. The heart of the proposal is a structure featuring a city building with a flora-filled rooftop garden, where visitors could dig into a portable potting station, planting seeds of common local-grown plants, climb on a spider web rope and follow the flow of nutrient-rich water from an aquaponics tank.
A Record-Breaking Competition
This year's Battle of the Brains competition had record-breaking participation: 5,300 students from 210 area schools submitted a total of 520 entries. We were absolutely blown away by the quality and ingenious designs we saw from each and every group!
And the excitement didn't end with the division champions — we were pleased to award $5,000 to four runners-up:
Camp STEM… Science, S'Mores and More — Rosehill Elementary, Shawnee Mission
Let's Get Ready to Rumble — Cordill-Mason Elementary, Blue Springs
Newton's Playground — Pleasant Hill Middle School, Pleasant Hill
Living in a Material World — Olathe Northwest High School, Olathe
The remaining 14 finalists each received $2,500 to help fund STEM education at their schools:
How it Works: Backyard Science — Stilwell Elementary, Blue Valley
Ants Enlarged: Learning from Ants — Bell Prairie Elementary, North Kansas City
Mission to Saturn — Green Springs Elementary, Olathe
It's All in Your Head — Longview Farm Elementary, Lee's Summit
Uniquely Kansas City — Highlands Elementary, Shawnee Mission
Survive! — Valley Park Elementary, Blue Valley
Road Ready: The Science of Bridges & Byways — Bonner Springs, Delaware Ridge, Edwardsville Elementary, Bonner Springs
Simple Six — Drexel High School, Drexel
Liftoff!KC — Gardner Edgerton High School, Gardner Edgerton
Every Which Wave — Olathe North High School, Olathe
Nature's Fault — Summit Technology Academy, Lee's Summit
Know Your Enemy — Oxford Middle School, Blue Valley
Electri-City — Belton High School, Belton
A Bug's Eye View — Pleasant Hill Middle School, Pleasant Hill
Now the fun really begins — for the students, and for our team of engineers, architects and construction professionals. Over the next year, the students at Mason Elementary will work alongside our team of STEM professionals to see their classroom dream come to life as the next permanent exhibit at Science City. Stay tuned to the blog for an update as the exhibit progresses, and for the grand opening date in late 2016.
A big congratulations and thank you to everyone who participated in the Battle of the Brains! We can't wait to see you at Science City's first outdoor exhibit!