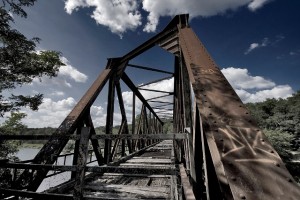 When it comes to maintaining its roads, bridges and other infrastructure, how does the United States rate? A dismal D+ according to the infrastructure report card from the American Society of Civil Engineers. The organization estimates that a $3.6 trillion investment is necessary over the next five years to catch up.
Globally, the World Economic Forum ranked our country 20th for the quality of our roads. While the U.S. once represented the best in quality infrastructure, it's fallen behind — and that's resulted in a steady increase in emergency repairs.
Budget for Road Improvements Dwindles
The Congressional Budget Office has projected a shortfall of about $13 billion this year for road and rail projects — and the situation is expected to erode further. Increasingly fuel-efficient cars have reduced the revenue power of the 18.4-cent per gallon federal gasoline tax, which hasn't increased since 1993.
Another significant cause of infrastructure woes has been the failure of Congress to authorize adequate funding for the federal Highway Trust Fund. Federal funding generally provides 30 percent of a project cost with state and local governments covering the remainder. The Highway Trust fund typically distributes $40 billion to $50 billion annually, but the amount has slipped.
Without federal revenues — and with state and local governments experiencing their own budget challenges — roads and bridges continue to deteriorate. As that deterioration reaches a crisis point, transportation departments must be poised to respond quickly.
One State's Challenge and the Rapid Response
The Missouri Department of Transportation (MoDOT) has 641 bridges listed in critical condition and almost 1,400 bridges weakened to the point of weight restrictions. An emergency situation was inevitable.
During Memorial Day weekend in 2013, two trains collided beneath a highway bridge in southeastern Missouri. The resulting derailment knocked out the bridge's support piers, causing two of the five spans to collapse. Our team received a call on Sunday and by Monday — Memorial Day — our engineers were already on the job assessing the damage. Preliminary plans for a new three-span, pre-stressed I-girder bridge were ready for MoDOT's review five days later. Final design was completed within three weeks, and the state reviewed it in one day. The new $2.3 million replacement bridge was constructed within three months of the collapse. Normally, that kind of job would take a year.
New Technology Reduces Disruptions
We pride ourselves on our responsiveness to clients in need. We're investing in new techniques that enable quick repairs during emergencies and speed scheduled replacement work to reduce the inconvenience to drivers. Precast concrete elements fabricated off-site can be quickly installed to minimize bridge repair time. A new approach called self-propelled modular transport allows a new bridge to be built near the old, and then be wheeled into place on giant multi-axle trailers.
We're all looking for a long-term solution to the nation's infrastructure needs — and being mindful of the impact we can make in the short-term. If you'd like to learn more about how to solve emerging and urgent issues with a minimum of disruptions, we'd love to talk it through with you. Comment below or reach out on LinkedIn.
Jugesh Kapur is a project manager at Burns & McDonnell with more than 30 years of experience in bridge design, construction and management. He has been a featured speaker at bridge technical workshops around the world. You can find and connect with Jugesh on LinkedIn.
Photo Credit: Stefan Berkner via Compfight cc