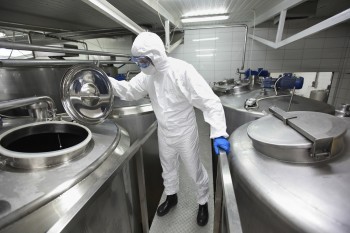 Following the introduction of the Food Safety Modernization Act (FSMA) in 2011, food safety continues to grow as a top concern. The FSMA has shifted regulatory focus from responding to contamination to driving implementation of preventative measures to reduce foodborne illness and regulate food safety.
With this proactive regulatory practice now in place, manufacturers are increasingly turning to certification and process design to eliminate hazards and achieve their long-term food safety goals.
Global Food Safety Initiative Certification
For food manufacturers looking to lay the foundation for FSMA compliance, a good place to start is earning certification from the Global Food Safety Initiative — an organization dedicated to advancing food safety. GFSI has benchmarked a set of "food safety schemes" by which manufacturers can become certified.
Achieving certification in a food safety scheme is common. However, maintaining and implementing that certification can become troublesome.
The complexity and difficulty of each food safety plan varies widely based on the number of "hazards" identified at a specific site. Many food producers find themselves in a maelstrom down the road by looking to control too many hazards.
For each chemical, physical and microbiological hazard present at a site, there are prerequisite programs that must be implemented, documented, validated and verified — ultimately creating complexities in the food safety plan. Each unique hazard requires specific steps to control the issue. While it can become cumbersome or even impossible to implement every control measure when multiple hazards are present at a single location, such hazards can be avoided with work early on — by integrating food safety and quality standards into the core design.
Reducing Hazards with Sanitary Design
Through our extensive work in food, beverage and other regulated industries, our team has established 11 sanitary design principles for designing, constructing and renovating food processing facilities to reduce food safety hazards. The principles:
Distinct Hygienic Zones Established in the Facility
Personnel & Material Flows Controlled to Reduce Hazards
Water Accumulation Controlled Inside the Facility
Room Temperature & Humidity Control
Room Air Flow & Room Air Quality Control
Site Elements to Facilitate Sanitary Conditions
Building Envelope to Facilitate Sanitary Conditions
Interior Spatial Design to Promote Sanitation
Building Components & Construction
Utility Systems Designed to Prevent Contamination
Sanitation Integrated into Facility Design
HACCP's Impact on Automation & Sanitary Design
Once the 11 sanitary design principles have been implemented, the next step is to establish a Hazard Analysis Critical Control Point (HACCP) plan for food safety and quality that identifies hazards, assigns critical control points and requires validation and verification. Each HACCP is based on seven core principles:
Hazard Analysis
Critical Control Point Identification
Establishment of Critical Limits
Monitoring Procedures
Corrective Actions
Record Keeping
Verification Procedures
Including automation and controls in the process design can further simplify the plan by creating an automated system for monitoring control measures, implementing corrective actions, keeping records of important process data and having verification procedures in place.
Taking these actions early in the design phase can reduce costs, improve efficiency and reduce the risk of becoming noncompliant.
Interested in learning more about achieving long-term food safety success? Join me and my colleagues, Eric Hungerford and Rick Wiehe, at a seminar hosted by Burns & McDonnell in conjunction with the Kansas City Section of the Institute of Food Technologists on Jan. 19. We'll cover sanitary process design principles and automation, and how these can create a successful HACCP plan.
You can register here, but in the meantime, if you'd like to chat more about food safety at your manufacturing facility, connect with me on LinkedIn or comment below.
Justin Hamilton is a Project Manager in the Food & Consumer Products Group at Burns & McDonnell, where he leverages his experience on both the client and consultant sides to deliver safe and timely projects that provide holistic value to his clients.