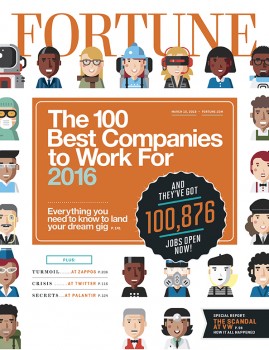 We've been eagerly awaiting FORTUNE magazine's annual rankings of the top workplaces in the U.S. And this morning we're excited to learn we once again made the cut, this year coming in at #16 on the publication's list of 100 Best Companies to Work For.
Now in its 19th year, the list recognizes companies in the U.S. that have exceptional workplace cultures. FORTUNE partners with the Great Place to Work® Institute to showcase companies with that embody five dimensions of workplace culture: credibility, respect, fairness, pride and camaraderie. These characteristics are the very fundamentals of employee-ownership and drive everything we do as a company.
The selection is based primarily on survey responses directly from our employee-owners. Also factored in are the firm's responses to an in-depth questionnaire about pay and benefit programs, hiring practices, internal communication, training, recognition programs and diversity efforts.
According to the Great Places to Work Institute®, top workplaces have low turnover, strong financial performance and high levels of customer satisfaction and loyalty — and such companies place a great deal of trust in their leadership and peers. These are all attributes we can attest to at Burns & McDonnell.
We work hard to make this the best place to work for our employee-owners, and because we know that happy employees make happy clients, we choose to invest in programs like wellness and professional development, and devote our time to sharing our good fortune with the communities where we live and work.
Hundreds of companies apply each year, and to be among the top 100 is an honor we never take for granted. I truly believe Burns & Mac is the best — and our people are the best. So to our employee-owners, I say thank you — and congratulations. Our company wouldn't be what it is without you.
And to the other 99 companies on the list: Congratulations! We're humbled to be in such good company.
Greg Graves is CEO of Burns & McDonnell.