Michelle Stradford, development manager responsible for growth in manufacturing, commercial architecture, and food and consumer products in the Ohio Valley Region, remembers how she felt when — during a summer in college — she told her boss she was studying to be an architect.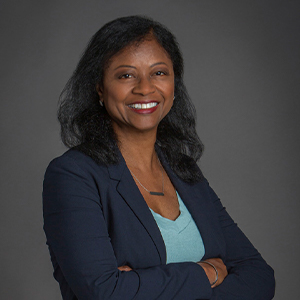 His reaction was not what she expected.
"I never will forget him laughing because he'd never seen a woman or person of color pursue a career in architecture," Stradford says. "His inability to see me in that role fueled my desire to not only become an architect but also to become an advocate for others who were different from the norm and wanted to work in the field."
After receiving her bachelor's degree from Clemson University, Stradford, who is a licensed architect, worked for years on projects that took her all over the world, including China, Poland, Singapore, Germany, Belgium, Canada, Mexico and South America. With more than two decades of experience, Stradford joined Burns & McDonnell in 2019. A year later, in addition to her role as a manager, she was tapped to support diversity, equity and inclusion (DE&I) efforts for her division.
"I was thrilled to be called upon to do this important work because I have always been passionate about equity, fairness and workplace inclusion," she says. "As a result of the racial unrest last summer following George Floyd's murder, I've felt an even greater urgency to affect change in how companies manage diversity."
Stradford used her previous corporate DE&I experience to guide the creation of a charter for the Black Professionals Network, the company's first employee resource group. She's also directed the creation of a DE&I page on the Burns & McDonnell internal communications platform. Among the information on the page is a series of candid 'My Voice' videos, which can be submitted by anyone in the company on a DE&I-related topic of their choice. So far, issues covered include unconscious bias, being valued in the workplace, advocacy, inclusion and listening, equity versus equality, and psychological safety. Also included on the site is a map that serves as a graphic representation of the diversity journey, as well as a self-assessment quiz that individuals can take to determine where they fall on the DE&I journey spectrum.
According to Stradford, candid employee videos can be used at any company to facilitate dialogue and increase understanding and awareness around diversity and inclusion issues. Self-assessment quizzes are another great tool that employees can use at any organization to identify bias and gaps in knowledge, as well as additional training needed to continue learning and growing.
In lock-step with internal efforts to champion diversity, equity and inclusion, Stradford is working to strengthen external connections with diverse businesses. She's incorporating an economic inclusion and mentoring partnership program into her division's diverse supplier network with the intention of creating mutually beneficial growth opportunities.
In partnership with business diversity director Michelle Word, Stradford is close to solidifying two agreements with accomplished diverse construction companies.
"We are excited about having the opportunity to grow our business by leveraging the creative talent that these partners provide. We know we can learn as much from suppliers as they do from us, and are equally thrilled that we will have the chance to deepen the firm's knowledge in the diversity, equity and inclusion space," Stradford says.
This reciprocal mentoring approach is the result of strategically identifying companies with shared values and solid performance that complement the business goals and objectives of Burns & McDonnell.
"It's important to work with firms that are committed to economic inclusion but whom we also believe we can grow stronger with as we work to expand our respective businesses," Stradford says.
Stradford believes building reciprocal mentoring relationships requires:
Creating a charter that establishes mutually beneficial objectives, clear expectations, a framework for engagement, and clear and measurable goals.
Developing formal mentoring agreements, with clarity on roles and performance expectations.
Maintaining a transparent and flexible working relationship that allows both organizations to take the lead on project opportunities, as well as learning initiatives.
"It should be coded in every company's DNA to want all employees and partners to bring their whole, authentic selves to the office because in the end, these differences enrich the working environment. These differences also help create innovative and inspired client solutions that can improve a company's bottom line."
This post is part of Together By Design, a quarterly business diversity newsletter published by Burns & McDonnell to advance a community of inclusion. This newsletter features stories of great opportunity, leaders who bring out the best in others, innovative approaches, and diverse perspectives that shape the business community and world at large.