Our future will be shaped by the next generations of STEM professionals. It's truly a privilege to help shape and encourage those dreams.
The ACE Mentor Program is one way we in the professional world are stepping up. This national initiative provides high school students with mentor leaders. The after-school program includes weekly sessions where students work through the development of a hypothetical project from concept to delivery. A summer design-build sequence provides additional hands-on opportunities. The program has grown to have a presence in more than 200 cities; since 2000, the ACE Mentor Chicago Affiliate alone has experienced participation from more than 1,900 students and more than 200 mentors.
This summer, we welcomed two bright members of ACE Mentor Chicago to work as interns in our downtown Chicago office. Our engineering internships are fiercely competitive, and these two young men were among just six high schoolers or college freshmen in our class of 214 interns nationwide this past summer.
One-on-One Experience
Gilberto Andrade Jr. came out of a four-year pre-engineering program at his high school and two years in the ACE program. He is excited to be pursuing a civil engineering degree. Denilson Saavedra also spent two years in the ACE program and is an aspiring structural engineer with a fondness for architecture.
Gilberto interned with the electrical engineering team in our Transmission & Distribution Group.
"Most of the work I did was drafting, which was a good way to learn about substations, since as a high school grad I didn't have the experience to do more calculation-based work," Gilberto said. "I was learning under the engineers about what they were doing and how it comes together."
He wasn't sure what to expect coming into a professional work environment for the first time, but Gilberto found his colleagues as friendly and helpful as his fellow interns: "They treated me like a co-worker, they respected me and challenged me, so I got a lot of responsibility, which I appreciated."
Denilson worked on electrical schematics and structural engineering drawings with our Energy Group. He did some drafting in AutoCAD for electrical engineers, then transitioned into turning markups on printed schematics into computer markups.
"I didn't know Microstation (software), so I learned that," Denilson said. "I had learned AutoCAD for the summer design-build program in ACE. I had used it briefly, but I learned a lot from doing the drafting work at Burns & McDonnell. I helped with as many drawings as I could so I got a lot of practice."
Expanding Knowledge
Denilson's enthusiasm for architecture — and participation in some past architecture competitions — also helped.
"I liked doing floor plans, so it was easier for me to learn AutoCAD and Microstation," he said. "Right now I'm in a class where students haven't learned AutoCAD yet. Having that experience already and knowing how to use those programs, it makes the homework a lot easier."
Denilson shifted from an architectural focus for his studies to engineering. "I switched to engineering because it's more mathematical, where architecture is more subjective. Engineering appeals to me because it affects a society directly, and I want to be a part of that."
The experiences of working with our team helped both young men, who are now continuing their studies at Illinois Institute of Technology and pursuing engineering degrees.
"Before going into the internship, I wasn't sure if civil engineering was the thing for me," Gilberto said. "I didn't know if there was something else that would interest me more. Having all these different practices — the internship didn't change what I wanted to do, but it made me more confident."
Denilson concurred: "Having experience with AutoCAD and drafting, and working in an office environment was very helpful. It only boosts my confidence. It also makes my leadership better because I know better what to expect when I graduate."
Personal Growth
Making connections with their Burns & McDonnell colleagues, both professionally and socially, undoubtedly helped Gilberto and Denilson over the summer and beyond. And that experience echoed and reinforced the mentoring aspect of the ACE program.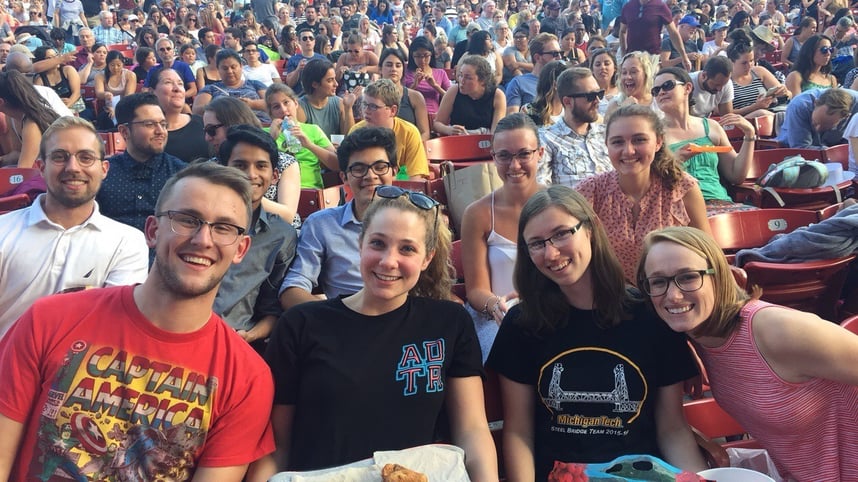 "I didn't have that mentorship growing up, so it's amazing how ACE does that and pairs you up," Denilson said. "I keep in touch with my mentors, and they help me with any problems I have. It's very good to have that partnership."
I'm proud of the way Burns & McDonnell supports STEM education initiatives in communities across the country. ACE has raised millions of dollars to support thousands of scholarships while filling hundreds of intern positions. Programs like ACE are encouraging and empowering the bright young minds that will design and build the world we all share tomorrow. And after seeing what students like Denilson and Gilberto can achieve, I can't wait to see what they create next.
Interested in learning more about the Burns & McDonnell internship program and the opportunities we offer for students? Read more on our website.