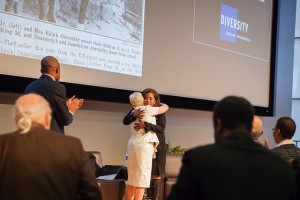 In honor of what would have been the Rev. Martin Luther King Jr.'s 86th birthday, I was privileged to attend an event unlike any that I've experienced. Burns & McDonnell's Diversity Advisory Committee hosted Donzaleigh Abernathy and Peggy Wallace Kennedy for "Children of Selma: A Dialogue with the Daughters of George Wallace and Rev. Ralph Abernathy" Jan. 15 at our world headquarters. Presenting to the audience of Burns & Mac'rs and members of the Kansas City community, these two heroic women shared their personal, firsthand accounts of growing up during one of the most tumultuous times in American history.
Although they come from opposite sides of the spectrum, Abernathy and Wallace Kennedy now stand united as advocates for civil rights across our nation.
Wallace Kennedy began the event with a poignant reflection on her childhood in Alabama and her personal journey to right the injustices of her past. Her father was the governor of Alabama who became known as one of the nation's most ardent segregationists of the 1960s. He's often remembered for standing at the doors of the University of Alabama to prevent black students from integrating. Wallace Kennedy grew up surrounded by the fierce racial ideals of her father, but she refused to let this lineage of hatred continue.
In her reflection to the Kansas City audience, she reminded us all that, "stepping away from a painful past isn't always easy, but it is always right." Leaving the shadow of "the schoolhouse door," Wallace Kennedy has spent her life campaigning for justice and equality for all Americans.
"We aren't responsible for our upbringing," Wallace Kennedy candidly told the room. "But we will be held accountable for what we do with our lives."
Born in the midst of the civil rights movement, Donzaleigh Abernathy shared a different perspective on childhood in Alabama. She was most notably influenced by the roles her father, the Rev. Ralph Abernathy, and close family friend Dr. Martin Luther King Jr. (or Uncle Martin as she called him) had in creating the nonviolent social movement that changed the course of U.S. history.
Even though her earliest memories include participating in civil rights demonstrations — including the March on Selma — Abernathy confessed to the auditorium that she didn't always understand the gravity of what she was witnessing.
"I thought I knew what was going on, but at 7 years old, I really didn't," she said, smiling up at a photo of her at a civil rights rally projected on the screen. "All I knew was that we were doing our part; we had to do our part, each and every day."
These women may have been born into two opposing worlds, but both Wallace Kennedy and Abernathy openly reflect about the role their fathers play in their continuous fight for equality.
Looking back at her girlhood, Abernathy modestly told the room that she in no way claims to have the courage that her father and Dr. King did, she's simply a result of her situation. "But I am honored to help tell their story," Abernathy added. "And I hope to set an example for everyone — at every end of the spectrum — to rise above hate and to spread the message of love."
Mirroring this sentiment of love, Wallace Kennedy was candid about her memories of her father, explaining her motivation to fight for equality. "My dad didn't plant the bomb or hit anyone with the billy club. He did the greater sin; he created the environment that allowed all of that to go on."
It's these riveting and dynamic personal histories that brought Wallace Kennedy and Abernathy together to be an example for others and to spread peace.
Ending the emotionally charged presentation, Wallace Kennedy and Abernathy shared an embrace and urged everyone — especially younger generations — to remember that non-violence is the only way to peace and happiness. It has been and will always be the only road to peace.
On behalf of the Burns & McDonnell Diversity Advisory Committee, it was an honor to host this event. This presentation and its powerful testimonials serve to reinforce our committee's mission to increase education, heighten appreciation for cultural diversity and eliminate intolerance. It's an experience I won't soon forget.
Meghan Calabro is an electrical engineer and the assistant department manager in the Telecom & Network Engineering department at Burns & McDonnell. In addition to these responsibilities, Meghan has been involved with the Diversity Advisory Committee for seven years and is currently its chairwoman.