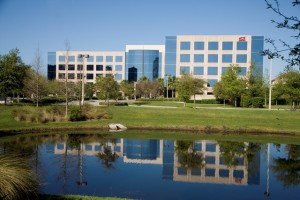 We love how our work takes us to every corner of the United States and around the globe, making an impact by helping make our clients successful. It's especially gratifying when our growth warrants a new office location. Today, we're celebrating as Burns & McDonnell opens its first major office in the Orlando area.
The move creates jobs for the region today, a trend that will continue as we plan to triple the size of the office within the next year.
I'm excited to lead this office and to be able to provide services for our utility partners in this region. In fact, we've already started work on projects for Duke Energy Florida. We have the No. 1 transmission and distribution team in the world, so we're excited to bring that leadership to Florida in an even bigger way that will positively make a difference in the lives of all who live here.
Our team in Orlando will have a strong focus on electrical transmission and distribution services, which will provide a strong foundation for growth into a multidiscipline office. Eventually we plan to offer a full suite of services to improve the quality of life for the people of central Florida – from the water you drink and the air you breathe, to the electricity that powers your home and the roads that take you where you need to go.
Historically, we've been designing and building projects that have fueled Florida's success for decades, including a new energy center for the Shands Healthcare Cancer Hospital Campus, the Joint Intelligence Center for the Central Command at MacDill Air Force Base, an F-35 Joint Strike Fighter Integrated Training Site at Eglin Air Force Base, and an ecosystem restoration project in the Florida Everglades, which earned the ACEC Grand Conceptor Award, the top prize in the engineering industry.
The new Orlando office at 495 N. Keller Road, Suite 155, in Maitland joins Burns & McDonnell's growing list of offices in places including Atlanta, Calgary, Chicago, Dallas-Fort Worth, Denver, Houston, Los Angeles, Miami, Milwaukee, New York, Philadelphia, Phoenix, Seattle, St. Louis and Wallingford.
Floridians — or those who might want to relocate to the Sunshine State — look us up if you're interested in a career opportunity. You can check out our latest openings on our Careers page and apply online if you see a position that might be a good fit.
Oko Buckle is a regional transmission and distribution manager and head of Burns & McDonnell's new Orlando office. He has extensive experience related to electrical transmission and distribution projects design. Want to learn more? Connect with Oko on LinkedIn.