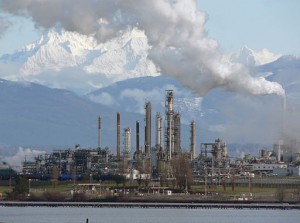 The goals were lofty for a wastewater treatment plant at an oil refinery in the Rocky Mountain region. The plant must treat 1 million gallons of industrial wastewater daily. The design must minimize the plant's footprint and environmental impact, while reaching for efficiencies in capital outlay and operational costs.
It's a combination of challenges engineers face in the real world every day. Only this isn't the real world and those charged with the design aren't engineers — yet. They're a team of senior engineering students at the University of Colorado and the fictional treatment plant is part of their capstone project.
Applying Knowledge to the Real World
The capstone project aims to synthesize a student's entire course of study into a single final initiative. It highlights how effectively students can couple knowledge with problem-solving, teamwork and communication skills. It's also a tangible project students can show to potential employers.
For the second year, I've sponsored a Capstone team because I believe the practical experience these students gain is incredible. They gain insight into what they might be doing as they pursue their careers and earn a high level of confidence as they head into the challenging cycle of resumes and interviews.
These students are sponges for practical experience — they soak up every detail. I'll come home from a trip to a refinery in Wyoming and show them a photo of a ladder. They work hard to understand the implications — why a ladder was necessary and how its design keeps workers safe.
Understanding the Convergence of Issues
As a sponsor, I help develop the design project the students address. Though I work in Burns & McDonnell's water division, I also have experience in the oil industry. I thought they'd be sufficiently challenged by a project that touched both worlds — a wastewater treatment plant at an oil refinery.
We met several times as a team to understand the convergence of issues. The students considered what characteristics the water must have before it returns to the creek, and how the plant could achieve those levels. They developed a safety and reliability plan that didn't compromise the design goals.
Their solution on where to site the plant was innovative and demonstrated deep thinking. Many would have settled for the easiest solution — a large area of open space. But by creatively siting the plant closer to the refinery, the team achieved budget savings through shorter pipelines and increased safety standards by keeping operators close to the refinery's exit points.
Nurturing the Next Generation
People ask what surprises me about working with this generation. I love to see how seriously these students take this challenge and how efficiently they work together. They aren't on their phones all the time, and they aren't only communicating by text.
I appreciate how we're encouraged to get involved at Burns & McDonnell. It's good for our industry. Without more sponsors, these students will have to form larger groups, and they won't learn as much. It's good for me, too. I'm energized working with them, and I've been exposed to new technologies because universities often pilot new software.
It doesn't feel like work to be a mentor. It's just fun. The students took so much learning out of the time we spent together, and that feels great. I'll do this every year until I retire. I'd love to know what kind of volunteer opportunities sound interesting to you?
Christine Hobson is a senior process engineer focused on industrial water systems at Burns & McDonnell. With both office and on-site experience in the oil refining industry, Ms. Hobson's non-technical strengths are her successes in working with operations and maintenance and understanding the needs of an oil refiner from the perspective of a former employee in that industry.