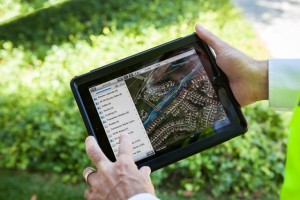 Few projects are more difficult to manage than complex linear projects, whether it's a pipeline carrying natural gas across rugged terrain or a transmission line spanning multiple jurisdictions. But the good news is technology can help streamline multifaceted projects like these by improving the quality, accuracy, efficiency and collaboration among team members.
OneTouchPM: Simplifying Project Management
Keeping the entire team coordinated and up-to-date throughout various stages of a project simplifies the project management process. Our trademarked project management tool, OneTouchPM, was developed to accomplish that goal.
Pulling information from multiple sources and combining them in a single, easy-to-use interface, OneTouchPM delivers critical information to project stakeholders in real-time. This instantaneous data provides team members with a holistic view of the project and allows leaders to make more timely and effective project decisions.
How It Works
OneTouchPM has been instrumental in executing large-scale, complex construction projects since it was developed in 2009.
As program manager for the $1.1 billion Northeast Utilities New England East-West Solution, which consists of three major projects including the Greater Springfield Reliability Project,, our team was responsible for constructing nearly 35 corridor miles of transmission line spanning eight municipalities in two states.
A project of this size and scope presented a number of logistical challenges, including obtaining approvals from numerous federal, state and municipal entities. But with the aid of OneTouchPM, communication with these regulatory authorities, who could easily access project data as part of their approval process, became exponentially easier.
From a management perspective, having access to real-time data allowed our team to proactively monitor regulatory compliance, schedules and budgets, enabling us to anticipate and mitigate problems before they happened.
As a result of OneTouchPM's innovative processes, the Greater Springfield Reliability Project was completed nearly two months ahead of schedule and more than $40 million under budget.
Applying Technology to Pipeline Projects
OneTouchPM works equally well with pipeline projects. As the U.S. continues to explore and tap into its own rich carbon resources, technology that allows centralization and easy access will be instrumental in helping build out the pipelines to transport oil and natural gas from source to end users across the nation.
An excellent example of an area with tremendous potential for natural gas exports is the Marcellus Shale play. Not only is it the largest natural gas shale play in the world, there's still a lot of potential in the area's untapped resources.
The region's current pipeline infrastructure does not have enough capacity to meet the current and future demands for additional natural gas, and as more pipelines are built, the need for faster processes and reduced costs will only continue to grow. And that's where OneTouchPM can help. From helping to gather data and plan optimal route locations to providing a clear picture of where project facilities are located relative to each landowner and stakeholder, OneTouchPM allows users to geospatially display the right information for their target audience throughout the project life cycle. Once the projects move to construction, OneTouchPM provides project managers with real-time updates on construction progress, project costs, environmental compliance status and stakeholder engagement.
If you work in the oil and gas industry and you'd like to learn more about using OneTouchPM for your pipeline projects, we should talk. Connect with me on LinkedIn or reach out via email.
Robert Young manages the Environmental Studies & Permitting Group in Burns & McDonnell's New England office. He has 20 years of experience managing permitting, compliance and management system projects on electrical transmissions lines and pipelines. Want to learn more? Connect with Robert on LinkedIn.