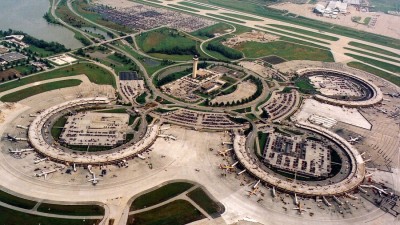 A new maintenance facility being built at Kansas City International Airport (MCI) will showcase a powerful and convenient computerized asset management system (CMMS) that's expected to revolutionize how operators measure, define and monitor the way their building runs and functions.
Imagine a building being able to communicate via mobile device in real-time about what maintenance work or repairs are required. And then not only showing exactly where the work is required, but how it's done.
That's the promise of the CMMS being integrated into the design and construction of the new 32,000-square-foot maintenance facility at MCI.
Integrated Technology from the Start
While other airports have some aspects of a CMMS in place, what's unique about the Kansas City project is the technology is being implemented from the start. The initial building design is providing the basic data for the CMMS, and it's being enriched with more information during construction.
Other airports have pieced together existing legacy systems for their CMMS — an approach that may hinder the ability to innovate and can be costly. The Kansas City workflow extends from design inception to construction and delivery in a way that's sustainable, meaning the client can reduce initial expenditures and deploy new technology, eliminating complex processes that are difficult to sustain.
Automation a Core Component of a CMMS
One of the more useful CMMS components is automated work order management. For example, if a light bulb goes out above an airline ticket counter, the ticket agent can send a request to generate a work order to assess the problem. If changing the bulb doesn't solve the problem, another work order is generated for follow-up servicing.
That automation extends to fleet management as well. The CMMS can keep track of a vehicle's maintenance schedule and generate requests to change the oil, replace tires or provide other servicing as needed.
In Kansas City, airport employees are working with developers and designers to see that the CMMS fits their existing and future needs. The system's flexible design is set to accommodate projects as they increase in size and complexity.
What Does Having a CMMS Mean to an Airport?
The maintenance facility, which includes a machine shop, offices and a locker room, is the pilot for any future capital improvement projects anywhere on the airport campus. Components being developed for this project are scalable to larger projects. By keeping the pilot small, the risk is minimized and proves the concept in a shorter period of time.
Designers are delivering system components as the building is planned, using Building Information Modeling (BIM) to identify and integrate data, capturing design intent and geospatially locating all new building components.
In the design phase, engineers' assumptions regarding sizing of mechanical equipment are captured in a manner that can later be recalled through the BIM model interface.
Building shell components are detailed so they can be linked to warranty and replacement information. During construction, shop drawings and technical submittals conform to requirements outlined in the specifications and are delivered in a format that integrates into the management model.
The building BIM model can be field-verified against current completed construction, so that the model conforms to as-constructed conditions.
That means an as-constructed BIM model is created and formatted to manage the building when turned over to the airport upon project completion. In the commissioning phase, the CMMS and BIM form an integrated dashboard to the facility. Having a current BIM model, integrated into the CMMS system, is key to effectively managing building assets.
Communicating Via Mobile Devices
All the detail the CMMS will provide will allow us to push the envelope of doing this work in a mobile environment. Using wireless and GPS technology, a mobile device can tell the operator what needs to be fixed. A user can pull up a map on their mobile device, obtain a detailed account of the room where the work is needed, and even access a video illustrating how the work needs to be done, if necessary.
Key airport personnel will be able to access and update information in the system in real-time. And airport facility managers will have a tool at their fingertips that can provide statistical data and quick access to information.
If this comprehensive approach to asset management sounds like something your airport your airport could benefit from, shoot me an email or comment below. I'd love to talk about ways we can work together to make your airport smarter.
Vicky Borchers is a senior architect and section manager in architectural production at Burns & McDonnell. This article was written in conjunction with Ian Redhead, Deputy Director for Operations and Maintenance at the Kansas City Aviation Department, which operates Kansas City International Airport.