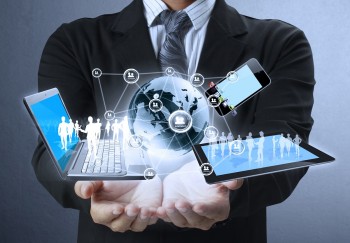 When it comes to capturing, storing and analyzing data, there aren't many technologies that provide more benefits than geographic information systems — or GIS — which is one of the many reasons it's become so widely used across the AEC industry. From municipalities to transportation agencies, airports and utilities, it's no surprise that nearly all of our clients benefit from arcGIS services in some form or fashion.
The MidAmerica GIS Consortium's MAGIC 2016 Symposium is coming to Overland Park, Kansas, from April 24-28 — and two of Burns & McDonnell's own GIS technology specialists, Brian Hiller and Jake Stevenson, are on the agenda of classes and labs offered at the event. Brian and Jake will be presenting two separate workshops on practical, hands-on approaches to using ArcGIS technologies — both with interactive opportunities to build real GIS applications. Here's a look at what they'll cover in their sessions.
Hands-On with ArcGIS in the Cloud
On Monday, April 25 at 8 a.m., Brian will host this introductory lab "Hands-On with ArcGIS in The Cloud" to discuss the variety of options available for using ArcGIS technology in the cloud.
The available selection of ArcGIS technologies can be daunting, and choosing the right one to use isn't always obvious. Building on his own experience, Brian will review the array of cloud-based ArcGIS technologies available and discuss the advantages and considerations for each.
Through a series of hands-on exercises, attendees will learn how to build and publish their own cloud GIS applications, and will also learn more about real-world projects that have used ArcGIS in the cloud.
Brian's workshop will primarily focus on:
Software as a Service (SaaS) — ArcGIS Online
Private Cloud — Portal for ArcGIS
Infrastructure as a Service (IaaS) — ArcGIS for Server/Portal on Cloud Infrastructure (Amazon Web Services and Microsoft Azure)
Hands-On with ArcGIS Mobile Technology
Also on April 25, this time at 1 p.m., Jake will present "Hands-On with ArcGIS Mobile Technology" where workshop attendees will have the chance to build their own ArcGIS Collector application. Jake will also show them how to use the ArcGIS Operations Dashboard to view the results and report on what's being collected in the field.
Coming out of the workshop, attendees will understand how to create their own mobile applications and will be equipped with valuable best practices and lessons learned from Jake's own experience using the technology on projects.
If you're interested in learning more about using GIS technologies, we hope you'll check out these workshops. Online registration is open until April 20, but you can also register at the event.
And if you're headed to MAGIC 2016, be sure to stop by Booth #200 and say hello to our team!
With more than 16 years of industry experience, Bryan Claxton is the business development manager for Burns & McDonnell's Technology Consulting division, specializing in information technology and geographic information systems.