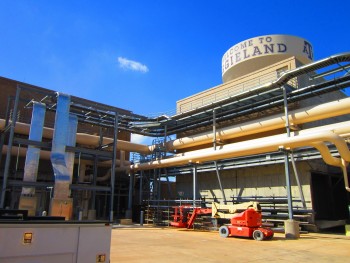 I'm headed to St. Paul, Minnesota, June 20-23 for the 107th Annual International District Energy Association (IDEA) Conference & Trade Show to explore emerging technologies, to innovative policies and to connect with global leaders advancing a new energy paradigm for cities, communities and campuses across the globe.
With this year's focus on "Embracing Change," IDEA brings together the best and the brightest from the international thermal energy community to discuss critical issues around planning, design, engineering, construction, operations, marketing and policy across the industry.
There's a great lineup of speakers on the program on topics ranging from utility-owned distributed generation to microgrids to master planning. Several of my colleagues and I will be presenting as well. Here's a look at our schedules:
At 10:30 a.m. on Tuesday, June 21, Brad Shuffield will present on "Texas A&M Electrical System Microgrid — Automation, Load Shed and Zero Voltage Start."
Brad's presentation will cover how Texas A&M produces and distributes power in parallel with the utility. A study of the electrical system has identified several contingencies ranging from the loss of one distribution transformer to a complete campus outage. Solutions include an automated microgrid control system that switches the distribution system and an automated zero voltage start algorithm, and how the result of this study will provide a more reliable electrical system in the event of an electrical disturbance.
Later that same day, at 3:45 p.m., Justin Grissom is joining Oklahoma State University's James Rosner and Frankfurt Short Bruza's Mike Isch and Brian Sauer to discuss "Moving Toward Greater Sustainability: Oklahoma State University Builds a New Central Plant."
Oklahoma State University (OSU) is in the process of reinvigorating campus utility production with a new, state-of-the-art thermal plant and an upgraded distribution system. The new plant matches campus architecture and focuses on efficiency, reducing square footage by 42 percent while yielding more than $400,000 in annual energy savings. The plant creates a bridge to academics with an 80-seat classroom and on-the-floor learning opportunities. The group will also discuss how OSU fast-tracked the process from master planning to design and construction in 18 months, with completion slated for December 2017.
Finally, at 11:45 a.m. on Wednesday, June 22, Patrick Worthington and I will co-present "Integrated Energy and Utility Master Planning at University of Utah" alongside Sarah Boll from the University of Utah.
This presentation will explore the integration of building energy efficiency and demand reduction into the long-term strategic utility plan for the University of Utah Health Sciences campus. All discussed will be benefits and techniques of utilizing energy efficiency as a utility system asset at a campus experiencing significant growth and transformation, with a focus on economic optimization, sustainability and reliability. Sarah will provide the university's perspective as to the value of integrated energy system master planning.
If you're headed to St. Paul for the conference or trade show, be sure to say hi and introduce yourself at either our trade show booth (#78), or at one of the presentations mentioned above. We would love to spend some time talking industry issues with you.
You can find out details of the conference and trade show by visiting IDEA 2016: Embracing Change. Looking forward to seeing you there!
As a project manager and mechanical engineer at Burns & McDonnell, Josh Foerschler specializes in demand-side energy management, central utility plants, load profiles, life cycle cost analysis for scenario comparisons, conceptual design and design-build projects.