As America deals with heightened emotions stemming from the current racial justice movement, Bob Kendrick fields calls from corporations asking for help facilitating conversations about race and business in America. Kendrick serves as president of the Negro Leagues Baseball Museum (NLBM), a close neighbor to the Burns & McDonnell world headquarters in Kansas City, Missouri. Michelle Word, business diversity director at Burns & McDonnell, also serves on the board of the NLBM.
During his 27 years working for the 30-year-old museum, Kendrick has become one of the most respected authorities on Negro Leagues baseball history and its connection to sports, race and diversity. He often uses the story of how baseball was desegregated to ease people into uncomfortable discussions about race.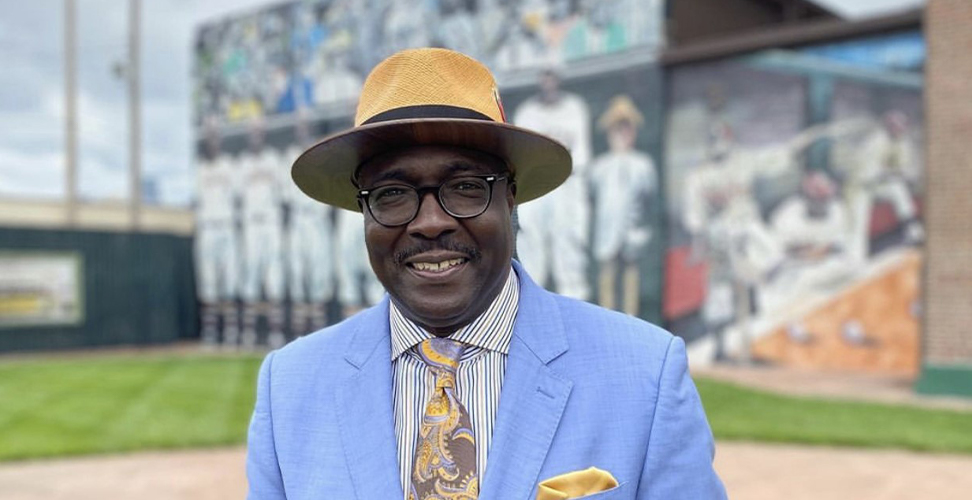 "When Jackie Robinson broke baseball's color barrier and had success, and other black players then moved into the major leagues and had success, that is one of the greatest examples of why diversity and inclusion in the workplace works," Kendrick says. "We can use this history and the amazingly wonderful story of triumph over adversity as a way to engage in this complex conversation."
With Black people barred from playing in the major leagues because of racism, the Negro National League was established in 1920 — and the Negro Leagues were born. Last year marked the 100th anniversary of the founding of the Negro Leagues, where Black and Hispanic players showcased their talent until the major leagues realized they were neglecting a valuable resource and began accepting nonwhite athletes in 1948. Kendrick says the players' successful struggle against adversity to play a game they loved makes the NLBM a civil rights museum with a message that deserves much more attention than it has received over the years.
"At the crux of it, this is a story about the importance of diversity, inclusion, equity, tolerance and respect," he says. "Those are all the hallmarks of advancing us socially."
As he travels the country raising awareness and money to secure the museum's future, Kendrick is often asked to lead discussions about race and business. He says core themes come up during those conversations:
Skin color doesn't dictate a person's abilities. "The idea that someone's skin color could dictate whether or not they could play a game doesn't make sense. Yet you see some of that still in the corporate world today," Kendrick says. He points out that, for years, Major League Baseball ignored Black and Hispanic talent. Consider how much better the sport could have been had segregation ended earlier.
Companies should welcome a diverse talent base. Kendrick says that having diversity at the table maximizes the number of potential opportunities. Eliminating people based on ethnicity weakens the business and society. "Hopefully through the story of the Negro Leagues, we can get people to look beyond whatever people's cultural backgrounds are and just simply look at what they have the capacity to bring to the table."
We have more in common than we are different. "We have a tendency in society where if you don't talk like me, look like me, or act like me, then you must be bad," Kendrick says. "Hopefully history can teach us that we should be celebrating our differences and individuality."
You've got to find a place for talent. Businesses should embrace talent, whenever possible. "You cannot eliminate people based on their ethnicity," Kendrick says. "If you do, you are doing a disservice."
Since appointed NLBM president in 2011, Kendrick has highlighted Black baseball players' successful struggle against adversity and has built a historical attraction that has received more than 2 million visitors. His association with the museum began during his 10-year newspaper career with the Kansas City Star, when he began volunteering to develop advertising campaigns and other promotions for NLBM. His successful campaign promoting the museum's first traveling exhibit led to his appointment to the museum's board of directors in 1993. Five years later, he became the museum's first director of marketing, then was named vice president of marketing in 2009 before leaving to serve as executive director of the National Sports Center for the Disabled in 2010.
Since returning to the museum in 2011, Kendrick has helped build exciting partnerships with Major League Baseball and others, which has strengthened the organization's finances by more than $12 million. Last summer, Kendrick convinced Congress to pass legislation to have the U.S. Mint create a coin commemorating the 100th anniversary of the Negro Leagues, which will be available in 2022 with a portion of sales going to the museum.
In December 2020, Kendrick achieved a long-time goal: Major League Baseball granted major league status to the seven Negro Leagues that operated between 1920 and 1948. Those leagues produced 35 Hall of Fame players, but now the approximately 3,400 players from those leagues are officially recognized as major leaguers and will have their stats and records become part of major league history.
Kendrick, who met many of the Negro Leagues players over the years said, "They never looked to Major League Baseball to validate them," but, he added, "It does give additional credence to how significant the Negro Leagues were, on and off the field."
This post is part of Together By Design, a quarterly business diversity newsletter published by Burns & McDonnell to advance a community of inclusion. This newsletter features stories of great opportunity, leaders who bring out the best in others, innovative approaches, and diverse perspectives that shape the business community and the world at large.