Vernal Stewart is an affable man who has built a life defined by relentless entrepreneurship and unyielding optimism. In 1986, he started his career by founding Engineering Polymers Co. While his youth and inexperience created some barriers, Stewart's hustle and humility ultimately resulted in professional success. Today, Stewart serves as the president of SE3, a professional services company specializing in civil engineering.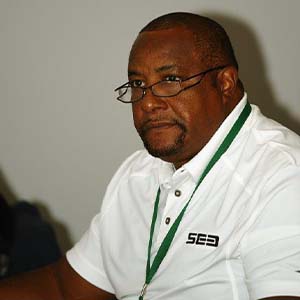 In the summer of 2017, Stewart departed for a weeklong training in Hanover, New Hampshire. Through a scholarship provided by Burns & McDonnell, Stewart attended an executive education program at Dartmouth College's Tuck School of Business. The program focused on helping small businesses owned and managed by individuals from groups classified as socially and economically disadvantaged. The coursework was rigorous, and attendees were expected to create growth strategies for their businesses. During the next four years, Stewart's strategies would pay off — as SE3 already has doubled in size and continues on a growth trajectory.
Risk and Hope for a Brighter Future
The ambition and determination driving Stewart today grew out of invaluable lessons in grit and determination learned during childhood. The son of an immigrant, Stewart demonstrates humility and admiration when he discusses his father: "I always struggle with my story, because it pales in comparison to my father's story."
During World War II, Stewart's father joined the U.S. Army. His father boarded a boat in Jamaica during a time when Black people were not allowed above the third deck and segregation was still legal. Despite these circumstances, his father was proud to play his part helping the U.S. and the Allied powers defeat the Axis powers. After serving in the Army, Stewart's father had the opportunity to become a U.S. citizen.
Stewart's optimism was a gift from his father, but his love for construction, engineering and building is attributable to his uncle and cousins, who founded the family's original business, Masonry Builders Inc. As a teenager living in Kansas City, Missouri, in the 1970s, Stewart watched his family build the roads they drove on, which influenced him to follow a similar career path.
Learning Outside the Box
As a founder and president, Stewart has always been a hands-on leader. "I had to know everything," Stewart says. "This program helped me realize that after you reach a certain level of responsibility, it isn't going to be so easy."
For Stewart, the program at Dartmouth didn't just help him develop strategies for the future. It also helped him think outside of the box. He needed to identify opportunities and projects that would help the business grow and think about how to diversify SE3's portfolio of projects.
Growing a Business
"At the end of the program, the instructors have you fill out a card of what your goals are for your business," Stewart says. While Stewart had forgotten about the card, one year later it arrived in the mail asking the former student if he had met his business objectives.
Stewart says receiving his card was a reminder for him to keep pursuing his goals. In 2004, SE3 started off with a handful of employees. After five years of gradual growth, the company had 12 employees. Over the ensuing decade, the company grew to 50 employees. Stewart finished the program at Dartmouth in 2017 and since then has grown SE3 to 100 full-time employees.
The relationship between SE3 and Burns & McDonnell is not limited to that scholarship. SE3 has served as a subcontractor on several projects for Burns & McDonnell. While SE3 has grown to become a medium-size enterprise, its projects also have grown in scale. In fact, after landing a large construction job in Chicago, SE3 subcontracted construction and engineering services with Burns & McDonnell — a point of pride for Stewart, who laughs about the shifting roles and responsibilities: "I had to write a million-dollar check to Burns & McDonnell. That was quite an experience."
Never Stop Reaching
Stewart has demonstrated grit and tenacity throughout his career, and the program at Dartmouth helped him reach new heights. Demonstrating his characteristic humility, he says, "I was really fortunate that Burns & McDonnell gave me a scholarship to attend this program."
For Stewart, it's always been about relationships and hard work. Growing up, his father told him, "Do a good job providing a quality service and the rest will fall in place." For more than 30 years, Stewart has hustled, provided high-quality services and built relationships. Over the past four years, he has led SE3 through significant growth. With a little bit of strategizing and creative thinking, Stewart has catapulted SE3 to a bright future.
This post is part of Together By Design, a quarterly business diversity newsletter published by Burns & McDonnell to advance a community of inclusion. This newsletter features stories of great opportunity, leaders who bring out the best in others, innovative approaches, and diverse perspectives that shape the business community and world at large.