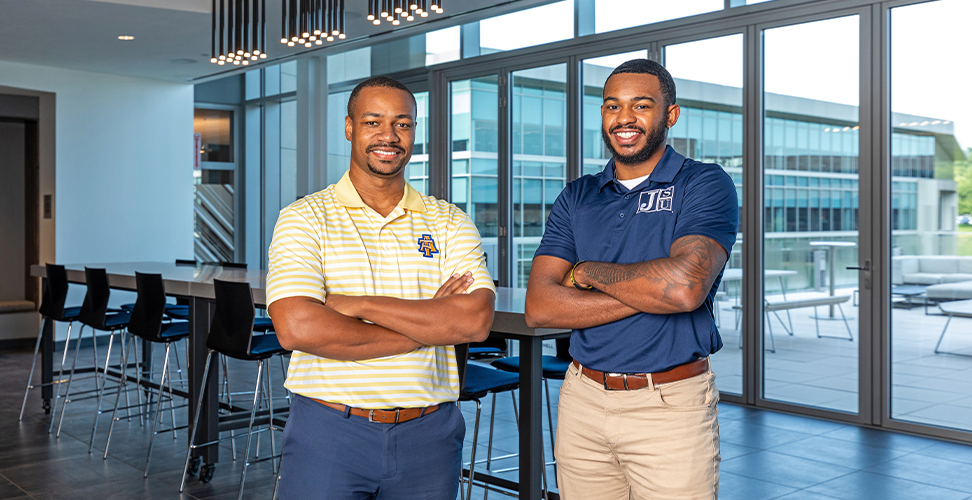 Derrick Ridley (left) and William Powell are among the Burns & McDonnell employee-owners building on their experiences at historically Black colleges and universities.
Schools Provide a Strong Network and Educational Foundation for Two Employee-Owners
Following passions for science, technology, engineering and math (STEM), and securing bachelor's degrees from historically Black colleges and universities (HBCUs), Derrick Ridley and William Powell are building upon their education from superb universities, gaining experience and thriving in the field of engineering.
Derrick, who earned a bachelor's degree in architectural engineering in 2012 from North Carolina A&T, manages junior engineers and CAD detailers, while supporting the department manager in the firm's Aviation & Federal Group. Will works on pipeline systems in the Water Group, which he joined after graduating in May 2021 with a bachelor's degree in civil engineering from Jackson State University.
Why was it important for you to attend an HBCU?
Derrick: The first word I would like to discuss is "historically." When historically Black colleges and universities were founded, it was a time when the Black and African American community did not have the same access to colleges and universities. We couldn't attend just any university or college. These colleges and universities were founded so we could extend our education past high school.
My father was born in 1949. He graduated from an all-Black high school, because it was the only choice he had, even though Congress passed the Civil Rights Act in 1964. My father wanted to attend North Carolina A&T, but he didn't have the resources to go.
What did you enjoy about attending an HBCU?
Will: I was a shy kid. I was always a funny kid, but when I met new people, I was more reserved. Jackson State offered different organizations that had you engage with and meet new people. Also, I enjoyed the fact that Jackson State is a medium-sized school. Even though it isn't a small school, my professors knew me by my first and last name.
Derrick: What I really appreciate about North Carolina A&T is that the school is like a fraternity. For example, my wife and I were in the airport and she was wearing her A&T hoodie. Someone walked by and yelled "Aggie Pride." We ended up having a 20-minute conversation with a stranger because we went to the same school. That doesn't always happen when you go to a larger school, but you definitely talk to people who went to an HBCU — especially the same school.
What prompted your interest in engineering?
Will: My father made math and science enjoyable for me. He was a math teacher and a professional comedian, so there was never a dull moment in the classroom.
What excites you about starting your career?
Will: I really appreciate the mentorship opportunities. As a new hire, you may worry about asking too many questions because you know your peers have a lot of projects they are working on. I appreciated that my mentors and team had patience and, in a few years, I'll be excited to help mentor new engineers.
What advice do you have for aspiring Black and African American engineers, architects, construction managers and STEM professionals?
Derrick: When you account for the coursework and accreditation, engineering can be one of the harder majors and professions to pursue. My father used to say, "There is nothing better than seeing hard work pay off." Just realize that sometimes you may need to work twice as hard to reach your goal.
Will: As I aspired to be an engineer, I was always worried that I did not know enough. I had to trust myself and I had to trust my school to believe that I was prepared. Trusting and believing in yourself helps you stay positive and motivated. For instance, if there is something that I am not able to grasp, I reflect and remind myself to keep investigating and learning, and eventually I will understand this new information.
How can AEC firms support Black youth with an interest in science and technology?
Will: Interest in STEM careers starts at an early age. Throughout my entire life, math and science have always been fun for me. At Burns & McDonnell, bringing activities like Battle of the Brains to inner-city schools can inspire young people. People who think they can't be an engineer often worry because being an engineer requires a lot of math. If children grow up in an environment where math and science are enjoyable, it helps them pursue these incredible opportunities.
This post is part of Together By Design, a quarterly business diversity newsletter published by Burns & McDonnell to advance a community of inclusion. This newsletter features stories of great opportunity, leaders who bring out the best in others, innovative approaches, and diverse perspectives that shape the business community and the world at large.