Highly collaborative and responsive project teams create a win-win for all parties involved. When trust and open lines of communication are established at the beginning, the process runs that much smoother. Engaging a diverse team that can count on each other's specialized skill sets and perspectives brings additional opportunities and solutions to the forefront to deliver inventive ideas and streamlined project execution. It's good for the bottom line, too.
Increased profitability, productivity and collaboration are direct results of mutually beneficial relationships. Read on for personal stories of enduring business partnerships.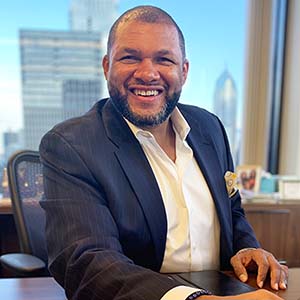 Wilbur Milhouse III, PE
Milhouse Engineering & Construction Inc.
Chicago, Illinois
www.milhouseinc.com
Milhouse Engineering & Construction is an interdisciplinary, Chicago-based engineering firm that provides a range of services, from civil, structural, environmental, mechanical and electrical engineering to architectural, construction, construction management, program management, development and wastewater services.
Wilbur C. Milhouse III, PE, established the company in December 2001 and employs more than 300 team members in offices across the U.S. and abroad, including Bermuda and Nigeria. The team's quality of work and eclectic capabilities have won contracts as lead designer and engineer for high-profile programs, such as the $2.2 billion O'Hare Global Terminal at O'Hare International Airport, as well as subconsultant roles on the tunnel project for O'Hare's new satellite terminals connecting to the new global terminal.
Milhouse III connected with a project manager at Burns & McDonnell in 2004 at a professional event in Chicago while pursuing subconsultant opportunities with the Illinois Department of Transportation and Chicago Department of Transportation. After a dynamic conversation, they discovered that Burns & McDonnell was the prime consultant on one of the same projects where Milhouse was a subconsultant. Throughout the project, a strong working bond was created, and a positive business relationship was cemented.
Recently, new opportunities arose for Milhouse to team with Burns & McDonnell to work on projects with PSE&G, an electric utility in New Jersey.
"We built our partnership with Milhouse on a foundation of trust early on," says Daniel Sierra, business diversity manager at Burns & McDonnell for PSE&G projects. "Building trust is an essential aspect of any relationship, and I appreciate how our teams were open to collaborating in person as well as during regular monthly calls. Fortunately, Mike Lombardo, PSE&G account manager, saw a great opportunity to partner with Milhouse for PSE&G's Energy Strong II Program, and our partnership grew."
With a strong foundation in place, Milhouse is working as a subconsultant for Burns & McDonnell, designing the power infrastructure for PSE&G's Energy Strong II Program.
"Such teaming opportunities have positioned us to perform as a prime consultant on future PSE&G projects," Milhouse III adds.
Projects with utility companies in the Northeast and Southeast regions may provide the greatest potential for such mutually beneficial partnerships in the future. Milhouse III expects the utility space will deliver solid growth for his company going forward.
"You can build really good relationships that are team-oriented and collaborative, or you can have a relationship that isn't a partnership — you just do the job," he says. "Positive relationships let us bring our talents to the table. Those are the relationships that we gravitate toward and try to build upon."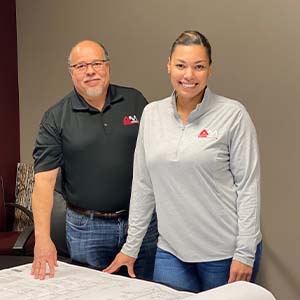 Bill Alexander and Tennille Bryant
Alexander Mechanical Inc.
Kansas City, Missouri
www.alexandermechanical.com
The father and daughter duo of Bill Alexander and Tennille Bryant have built Alexander Mechanical into a $25 million-a-year mechanical contracting company performing process piping, fabrication, plumbing and HVAC and providing wholesale piping specialties. The business has been a Burns & McDonnell supplier for almost two decades.
Alexander started Alexander Mechanical in 1998 after becoming a pipefitter superintendent at a local Kansas City, Missouri, contracting firm. He used his 22 years of experience and business savvy to grow the firm into a $2 million enterprise within two years.
In 2000, he took on a sales role — selling pipe, valves and fittings — to help a colleague struggling with a wholesale supply company. To further support his friend's success, Alexander started AMC Industries LLC as a wholesale supply company. When his daughter completed her bachelor's degree in business management at Park University in Parkville, Missouri, she stepped in to run AMC Industries.
"I took over the wholesale side of the business because it was a different avenue for me to contribute," Bryant says. "It allowed me to help build the family business."
The relationship between Burns & McDonnell and AMC Industries LLC began in 2002 when Burns & McDonnell was purchasing specialty piping products for oil refinery and gas plant projects across the U.S. and looking for new business partners. In 2005, Alexander Mechanical began winning contracts with Burns & McDonnell to support the construction side.
"We've not only been able to grow the wholesale business but also build upon our great relationship on the construction side," Alexander says.
Through its specialty piping business and fabrication facility, Alexander has worked for and partnered with Burns & McDonnell on several high-profile projects, such as the Kansas City Overhaul Base, the Burns & McDonnell world headquarters and a high-rise in downtown Kansas City, Missouri, that's currently under construction.
"I have had the pleasure of working with Bill and Alexander Mechanical on multiple projects, and he is a trustworthy partner who continues to provide excellent service," says Nate Purdy, project manager at Burns & McDonnell. "As part of our ongoing partnership, we openly communicate the facts, whether good or bad, and collectively work together to solve problems and deliver a successful outcome."
In 2017, AMC Industries merged with Alexander Mechanical as part of a plan to grow the $25 million business into a $50 million enterprise. Alexander is confident Burns & McDonnell will be a part of the company's future growth.
"The leadership at Burns & McDonnell truly believes in diversity — it's a company culture," he says. "It's passed from the top down and has remained consistent throughout the years."
This post is part of Together By Design, a quarterly business diversity newsletter published by Burns & McDonnell to advance a community of inclusion. This newsletter features stories of great opportunity, leaders who bring out the best in others, innovative approaches, and diverse perspectives that shape the business community and the world at large.