The 80-year-old water treatment facility in Wichita, Kansas, needed an upgrade to serve the city's growing population. To meet residents' water needs, Wichita officials decided to construct a 120 million gallon per day (mgd), state-of-the-art facility, northeast of the local zoo.
When completed, the Northwest Wichita Water Facility (NWWF) will treat water from multiple sources in a flexible and sustainable way. The $500 million project is the largest infrastructure investment in the history of Wichita.
Along with building the facility, the project team is determined to build up the city's diverse business community. As part of the joint venture, Burns & McDonnell and Alberici Constructors were hired to design and build the treatment plant. The firms will do so with the help of local partners who represent Wichita's diverse business community, such as DuBois Consultants, CML Collective, Kansas Business Services, Dudley Williams & Associates, McAffe3 Architects and Greteman Group. With the intent of utilizing emerging companies as subcontractors, the joint venture team has identified dozens of potential partners capable of delivering more than $35 million in services toward the project's design and construction. With the help of other key local partners — GLMV, Schaefer Johnson Cox Frey Architecture, MKEC, Professional Engineering Consultants, Wildcat Construction, UCI, and Dondlinger Construction — the project will ultimately impact hundreds of local companies.
The NWWF will serve more than 550,000 residents in Wichita and surrounding communities. It will allow the city complete flexibility in treating surface water, groundwater and aquifer recharge water to drinking water standards through a single plant, providing a more resilient water future for generations to come.
The NWWF is under budget and on schedule for completion in 2024. The facility, which will require more than 1.5 million labor hours to finish, will include more than 450,000 cubic yards of earthwork, more than 18 million pounds of reinforced steel and more than 17 miles of pipe on site.
"This sizeable project provides an opportunity for small, diverse companies to showcase capacity and capability," says Darrius Wright, co-owner of Kansas Business Services and the project's outreach coordinator. "Engagement in this project can also assist in gaining certification for local, state and national certification programs. It's truly a win-win for all involved."
Ron Coker, senior vice president and general manager of the Water Group at Burns & McDonnell agrees: "As a firm with entrepreneurial roots, we understand the value that small businesses bring to our team. We have a long-standing partnership with the city, and what is happening in Wichita is truly a legacy project. It's a long-term, multiyear investment that is being leveraged in a smart way to positively shape the future of the local business community and the local workforce."
As part of the project's commitment to increasing job opportunities, project leaders partnered with WSU Tech to finance tuition for students in the Certified Apprenticeship in Construction Science Program. Apprentices are hired by a project subcontractor, receive construction mentoring and earn competitive pay while on the job. The joint venture team pays for all tuition, books and fees, including costs for those in the program who chose to further their education and earn an associate degree. The program began in summer 2021, with women and minority students enrolled as apprentices.
"We're dedicated to helping the city build its bench of diverse, certified workers and businesses," says Jessica James, project manager of planning and policy at Burns & McDonnell. "We are here to support individuals and small companies as they expand their knowledge and experience. We want to help create a vibrant business community and to that end are interested in paving the way for educational and business growth."
In addition to creating workforce opportunities through this project, the project team has focused on expanding the capabilities of the city's overall business community. In fall 2020, the group hosted the Wichita Entrepreneurship and Innovation Series, a virtual small business education and coaching workshop that helped business owners with strategy, financial management, marketing and innovation.
"It's critical for Wichita's business community to continue to foster a robust entrepreneurial climate," Coker says. "We want to do everything we can to get solid partners for this water project now and to prepare local company owners for future projects with us and other partners."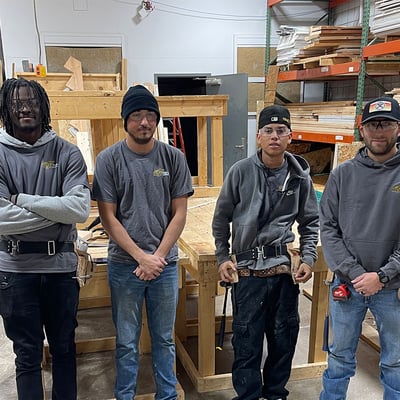 WSU Tech students who were awarded apprenticeships to work on the Northwest Wichita Water Facility. The students are (l to r): Eric Brown, Dondlinger Construction; Preston Wardlow, CAS Constructors; Fernando Rueda, Wildcat Construction; and Ryan Sharp, Dondlinger Construction.
This post is part of Together By Design, a quarterly business diversity newsletter published by Burns & McDonnell to advance a community of inclusion. This newsletter features stories of great opportunity, leaders who bring out the best in others, innovative approaches, and diverse perspectives that shape the business community and the world at large.