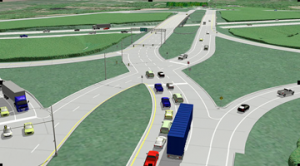 A new concept in road design has come to Kansas. In October our team joined city, state and county officials in a ribbon-cutting ceremony to mark the opening of the state's first diverging diamond interchange (DDI). The new interchange, at I-35 and Homestead Lane in southwest Johnson County, is part of a project to provide new access to developments in the area, including the BNSF Kansas Intermodal Facility and the Logistics Park Kansas City, as well as other planned warehouse facilities.
We were retained by the Kansas Department of Transportation in 2010 after a comprehensive access study to select the new interchange configuration and prepare construction documents. After a review of numerous interchange types, the DDI was selected as the best solution for the proposed interchange. The new junction is an unusual form of diamond interchange in which the two directions of traffic on Homestead Lane cross to the opposite side of the road at each ramp intersection. (Check this animation out to see how it works.)
Heavy truck traffic from the BNSF Intermodal facility is expected to cause increased left turn traffic through the new interchange. The DDI creates a two-phase traffic signal operation at the ramp intersections and significantly improves safety by eliminating the risk of left turns across opposing traffic. With a heavy volume of left-turning traffic on Homestead Lane, particularly the heavy truck traffic from the BNSF site and headed toward I-35, the DDI is a cost-effective solution to a complex traffic issue.
It's different, and it will take some adjustment, but it's actually a much simpler traffic flow. And the benefits to safety and time factors will be considerable.
Kansas Transportation Secretary Mike King said of the new road system: "The new DDI will provide enhanced safety and economic benefits for years to come. The interchange will safely serve both the commuter as well as the significant truck traffic that will be generated from the BNSF Intermodal development for years to come."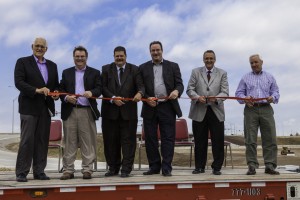 Pictured at the ribbon-cutting ceremony (from left to right) are: Ed Eilert, chairman of Johnson County Board of County Commissioners; Mike King, Kansas Secretary of Transportation; Donald Roberts, mayor of Edgerton; Chris Morrow, mayor of Gardner; Steve Schmidt, Burns & McDonnell Transportation Department Manager; and Bill Clarkson, vice president of Clarkson Construction.
Our entire team is proud to have been involved in this innovative project, which will serve the motorists of Johnson County and the Kansas City metro area for many years.
Steve Schmidt is a department manager in the Burns & McDonnell Transportation Group focusing on highway projects.