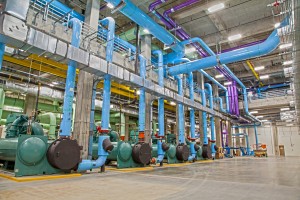 Large campuses — universities, corporate headquarters, hospitals and military bases — depend on uninterrupted energy and reliable power to keep their facilities functioning. When natural disasters strike or other unforeseen circumstances cause grid interruptions, well-designed campus energy systems allow business to continue as usual.
Next week, I'm headed to Atlanta for the 27th annual IDEA Campus Energy Conference, an industry event focused specifically on how campus energy systems provide highly efficient, sustainable and reliable energy services that support mission critical operations. More than 600 industry professionals will attend, including several of my colleagues from Burns & McDonnell's OnSite Energy & Power Group. Through presentations and conversations with industry professionals we'll discuss what we've learned about campus energy and infrastructure systems.
I look forward to this event each year, as it's a great time network with others who focus on district energy systems. But it's also one of the best opportunities for me to stay on top of new technologies in the industry and develop a better understanding of the changing trends. This year, I'm especially interested in understanding how the manufacturing renaissance in the U.S. will affect our industry and the use of district energy systems.
I'll be presenting at the conference along with several of my colleagues, joined by a host of other great presenters. Here's a look at the schedule as it relates to me and my team:
Cole Luke and Jon Schwartz will present on "The Ohio State Infrastructure Master Plan" at 2 p.m. on Wednesday, Feb. 19.
Michael Dempsey will present on "Microgrid for University of Iowa Medical Research Facility" at 2 p.m. on Wednesday, Feb. 19.
Jeff Easton will co-present with Louis C. Saksen from Parkland Hospital on "Planning, Design & Operation for Resiliency at Acute Care Hospital, Dallas-Fort Worth" at 3 p.m. on Wednesday, Feb. 19.
And lastly, I'm looking forward to co-presenting with Kelly Gibbons from the University of Utah on "Financing & Improving Plant Efficiencies at the University of Utah Via Building and Distribution Improvements" at 4:30 p.m. on Wednesday, Feb. 19.
I'm looking forward to connecting with other professionals who work with district energy systems and hearing presentations from not only my own team, but from other folks who are absolutely the best in the business. I'm sure it'll be a great learning experience for us all.
If you're headed to the conference, feel free to connect with me on LinkedIn. When you're in the exhibit hall, be sure to stop by booth #5 and say hello — it would be great to meet you.
Tim Burkhalter is a business development manager in Burns & McDonnell's OnSite Energy & Power Group. He specializes in campus energy systems and helping clients develop energy reduction and efficiency strategies.