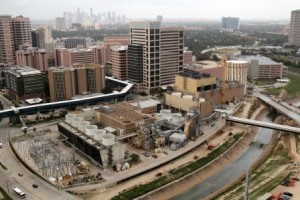 Large campuses, like universities, corporate headquarters, hospitals and military bases, depend on uninterrupted energy and reliable power to keep their facilities operational. When the grid goes down, it's imperative that business continue as usual for these facilities. There's not a one-size-fits-all approach for these situations, which can pose challenges when designing campus energy systems.
If you work with campus energy systems like I do, you probably face similar challenges in planning and operating efficient and reliable utilities. I'm headed to Denver Feb. 10-13 for the 28th Annual Campus Energy Conference to connect with other campus utility professionals and learn about new and exciting advancements in the world of campus energy systems.
This year's focus on "Clean Energy for the Next Generation" will be the catalyst for district energy dialog. Our own Scott Clark will join a panel of industry leaders to kick off the conference portion of the event at 8:30 a.m. on Wednesday, Feb. 11. The panel will address emerging trends in clean energy deployment and optimization on campuses and communities this rapidly changing utility and energy marketplace.
There's a great lineup of speakers on the program on topics ranging from utility-owned distributed generation to microgrids to master planning. Several of my colleagues and I will be presenting as well. Here's a look at our schedules:
At 2 p.m. on Wednesday, Feb. 11, Kurt Koenig will present "The Case for Utility-Owned Distributed Generation: 5-MW CHP Microgrid at Gainesville Regional Utilities" with Chuck Heidt from Gainesville Regional Utilities.
Kurt and Chuck's presentation will cover how over the past decade several key market influences have led to an increased interest and installation of distributed generation, cogeneration, combined heat and power, and microgrids. The combination of today's low natural gas prices and the increasing cost to utilities for environmental compliance has created an environment in many parts of the country where traditional utility customers are considering local generation assets.
Businesses, manufacturing facilities, hospitals, universities and a host of other entities continue to look for ways to improve reliability, reduce costs, simplify operation, reduce environmental impact, and increase earnings. They'll discuss why distributed generation in microgrid applications has become a key consideration for accomplishing these goals.
Also at 2 p.m. on Wednesday, Feb. 11, Mike Dempsey will co-present "Comprehensive Electric Distribution Master Planning at NCSU" with Alan Daeke from NCSU.
Like many universities, NCSU's expansion over the years resulted in many unplanned modifications to the electrical distribution system to keep pace with growth. The resulting system is difficult to safely align to balance load flow or facilitate equipment maintenance.
During this presentation, they'll explain how, rather than continuing piecemeal modifications, NCSU took a holistic approach and embarked on a comprehensive electrical distribution master planning effort to "untangle the spaghetti."
At 3 p.m. on Wednesday, Feb. 11, Blake Ellis and I will co-present "Demand Side Management Strategies for Campus Labs."
Campus laboratory and research facilities are energy intensive facilities. The effects of a targeted energy conservation program within lab and research facilities will change the campuses schedule and need for expansion of energy production and distribution systems. Our presentation will discuss a roadmap and implementation strategy for a systematic laboratory energy retrofit program and the positive results demonstrated through energy master plans.
Mike Dempsey returns to the stage at 4 p.m. on Wednesday, Feb. 11, to present "Networking the Emergency Generator Fleet to Expand the University of Iowa Microgrid."
He'll address critical power requirements for expanding medical research facilities at the University of Iowa and how his team studied the feasibility of networking existing building emergency diesel generators with existing reciprocating and steam turbine generators at the Campus Power Plant.
Mike will also explain the project's ultimate solution including the hardware and software modification design decisions that were necessary due to the microgrid testing constraints.
At 8:30 a.m. on Thursday, Feb. 12, Jeff Easton is presenting "Large Thermal Energy System Expansion for the Dell Medical Center at the University of Texas at Austin" with UT's Juan Ontiveros.
The UT-Austin district energy system self-produces electricity, chilled water and steam for over 17 million square feet of campus buildings. With the addition of the new Dell Medical School campus, the university is embarking on one of the largest expansions in its history. Jeff and Juan will cover how the new chilling station will add 15,000 tons of cooling capacity to the campus loop and create a heating water system to serve the new campus.
Josh Foerschler and Aurom Mahobian will present "Total Facility Optimization at Denver International Airport" at 10 a.m. on Thursday, Feb. 12.
Josh and Aurom will discuss the various energy efficient strategies used at Denver International Airport in order to accommodate increased passenger loads. They'll focus on the role that utility master plans play in achieving total facility optimization for the airport and will dive into project case studies on the cooling tower sump separation, hydronic optimization, central utility plant (CUP) controls upgrade, as well as CUP chiller addition.
I'm looking forward to connecting with other professionals in the world of district energy systems and hearing presentations from not only my own team, but from other individuals who are the best in the industry.
If you're also headed to IDEA's Campus Energy Conference, I'd love to meet you. Feel free to connect with me on LinkedIn and stop by booth #96 in the exhibit hall.
Tim Burkhalter is a business development manager in Burns & McDonnell's OnSite Energy & Power Group. He specializes in campus energy systems and helping clients develop energy reduction and efficiency strategies.