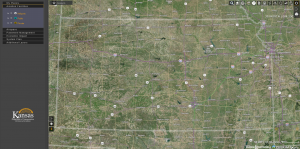 Look out Silicon Valley software developers: The Kansas Department of Transportation (KDOT) is earning a national reputation as a technology innovator. Its latest advancement, the Kansas Aviation Portal, is taking aviation data to new heights by providing a one-stop shop for aviation-related issues in Kansas. The portal gathers an unprecedented amount of data in one place and presents it in a simple, user-friendly 3-D format.
An Ongoing Partnership with KDOT
The portal follows in the footsteps of the Kansas Airspace Awareness Tool (KAAT), a collaboration between KDOT and Burns & McDonnell that debuted in 2011. The groundbreaking tool earned several national awards, including one of the engineering industry's highest recognitions — an Honor Award from the American Council of Engineering Companies.
The successful collaboration on KAAT led to an ongoing partnership between KDOT and Burns & McDonnell. Together, we developed a pavement management program and an economic analysis program. These efforts — along with the airspace awareness tool — are the backbone of the new aviation portal.
For KDOT Aviation Director Jesse Romo, the new tool is a vision realized. "We had an idea of what the tool could become," he says. "The Kansas Aviation Portal takes our data visualization and airport awareness campaign to a whole new level."
A Single Source for Aviation Information
It's a valuable asset for airport operators, state officials, developers, travelers and the general public — anyone looking for information related to the state's aviation industry. Previously, people had to search for information all over the web. And once they found the data, it was often too complex to be of much use. Now, it's all in one place and easy to digest.
At the portal, users can:
Lay out obstructions on a 3-D map to determine if development plans interfere with protected airspace. This helps aid in the safe placement of tall structures like water towers, cell towers and wind turbines. It can also guide developers to place structures away from protected airspace, eliminating the need to submit plans to the FAA.
Review the pavement condition index of runways, taxiways and aprons at Kansas airports. This information helps federal, state and local officials determine funding and project priorities.
Understand the role aviation plays in the community, reviewing economic impact information by individual airport, by county or across the state. This helps bring detail to an industry that's massive in scale — 65,000 employees statewide with a payroll of $3 billion and with a total economic impact of $14 billion statewide.
Providing Analysis and Education
Romo, who is moving on from his KDOT post to direct the Manhattan Regional Airport, has a unique perspective on the audiences the portal supports. He says, "As a state official, it will be extremely helpful in system planning. The ability to depict data visually not only enhances the conversation, but it creates a helpful dialogue with elected leaders and officials."
As a future airport director, he'll rely on the tool for education. "I've already used this portal to discuss future plans at the airport," Romo shares. "The Kansas Aviation Portal will greatly assist me as an airport director because I get to demonstrate data visually like it's never been seen before."
The portal is accessible from a smart phone and tablet as well as a computer. Check it out, but be sure to give yourself plenty of time, because you just may find yourself caught up in the encyclopedic volume of information the website shares. And the best part of all? It's free, open to the public and easy to use.
What uses do you see for the Kansas Aviation Portal? Could other states or other industries benefit from a tool with this usability? Let me know what you think in the comments.
Jamie Katz is a senior information management specialist at Burns & McDonnell, but KDOT refers to him as the Architect from "The Matrix." He focuses on information management systems with a special emphasis in geographic information systems, science and geospatial technology. You can connect with Jamie on LinkedIn.