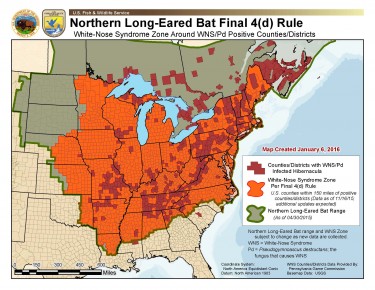 The U.S. Fish and Wildlife Service (USFWS) recently announced its final rule to protect the northern long-eared bat (Myotis septentrionalis) using flexibilities under Section 4(d) of the Endangered Species Act (ESA) while minimizing regulatory requirements for landowners, land managers, government agencies and others within range of the species' habitat. The final rule, which extends protection to the areas hardest hit by white-nose syndrome (WNS), takes effect Feb. 16, 2016.
The Decline of the Northern Long-Eared Bat
Bats play an important role in protecting our ecosystem from harmful agricultural pests, like moths, beetles and flies. In recent years, the northern long-eared bat — and the endangered gray and Indiana bats — have seen a significant population decline caused by the fungus Pseudogymnoascus destructans, which causes WNS. The disease primarily affects the muzzle, wings and ears of hibernating bats and it's been spreading quickly across areas of the northeastern and central U.S.
On April 2, 2015, the USFWS listed the northern long-eared bat as a threatened species under the ESA and established an interim 4(d) rule to protect and manage distinct population segments of the northern long-eared bat that are affected by WNS. The USFWS also established buffer zones that include all counties within 150 miles of where WNS has been detected in hibernating bats, primarily in the northeastern U.S.
Since April 2015, the USFWS has identified additional counties that have been hardest hit by WNS and has issued a revised map, extending the buffer zone where the 4(d) rule applies. The WNS buffer zone has expanded into Iowa, Kansas, Louisiana and Nebraska and South Dakota, as shown on the map. By implementing the 4(d) rule, the USFWS is focusing its efforts on protecting northern long-eared bats at maternity roost trees during the June and July pup-rearing season and at hibernation sites, where this bat species is most vulnerable to the effects of WNS.
What's Protected
Under the new rule, incidental take — or activity resulting from otherwise lawful activities, such as tree removal — that occurs outside of the WNS buffer zone will not be prohibited. Incidental take is also not prohibited if it involves removing hazardous trees in order to protect human life and property.
However, there are several instances of incidental take that remain prohibited, including:
If it occurs within the WNS buffer zone.
If it occurs in northern long-eared bats' hibernaculum, including caves, mines and other locations where bats roost during the winter.
If it occurs within a quarter-mile radius of a known hibernaculum.
If it cuts or destroys known maternity roost trees or any other trees within a 150-foot radius of a known maternity tree during pup season (June 1-July 31).
Potential Implications of the New Rule
The final rule could affect projects that occur within the newly expanded WNS buffer zone if the project includes construction or land disturbance activities from June 1 to July 31. However, projects within the newly expanded WNS buffer zone could still be subject to the tree-clearing restrictions associated with other protected bat species (i.e., the gray and Indiana bats), if those bat species are also known to occur within the same county as the proposed project.
Surveys can help determine if a project near a maternity roost could adversely affect hibernaculum or trees that are protected by the northern long-eared bat 4(d) rule.
Not sure if your project is affected? We have a team of bat specialists who can assess a project's potential bat issues and offer a variety of survey and mitigation options. If you'd like to learn more, comment below or shoot me an email. I'd be happy to help.
Brian Roh is a threatened and endangered species specialist, wetland scientist and aquatic ecologist at Burns & McDonnell. He has a wide range of experience with wildlife species identification and habitat assessments.