The latest proposed rule amendments from the Securities and Exchange Commission (SEC) would require greater transparency around climate-related risks. Many publicly traded electric utilities recognize what's on the horizon and have begun taking steps to meet market expectations as part of the energy transition.
Toward Greater Transparency
The proposal notes that "investors are seeking more information about the effects of climate-related risks on a company's business" because it is an important factor in decision-making. The SEC proposal highlights the value of providing more consistent, comparable and reliable information regarding a company's climate risk mitigation strategy and performance. The amendments would seek to enhance and standardize those climate risk disclosures by public companies.
The rules would require organizations to make regular updates in annual Form 10-K filings about key pieces of information, including:
Oversight and governance of climate-related risks by management.
Actual or likely material impacts from climate-related risks on the company's business and financial statements.
How climate-related risks affect the company's strategy, business model and outlook.
Processes for identifying, assessing and managing those risks.
Descriptions of transition plans, including relevant metrics and targets.
Details about the organization's internal carbon price and how it is set.
Impacts of climate-related events (such as severe weather) and transition activities on the line items of financial statements, as well as the estimates and assumptions that were used.
Direct (Scope 1) and indirect (Scope 2) greenhouse gas emissions, separately disclosed, in absolute terms (not including offsets) and in terms of intensity.
Indirect emissions from activities in the company's value chain (Scope 3), in the same terms.
For greenhouse gas reduction targets:

Details about the scope of what is included in each target and the defined time horizon.
How it intends to meet its targets.
Relevant data about progress toward targets.
Details about any renewable energy certificates or carbon offsets.
The rule amendments were announced in March 2022, and the public comment period closed Nov. 1. The public comments are in review, and the rule will likely be published during the first quarter of 2023. Rule implementation in phases will begin 30 days after being recorded in the Federal Register.
How Utilities Will Be Affected
Utilities have grown increasingly accustomed to requests for environmental, social and governance (ESG) data. The Smart Electric Power Alliance reports that 83% of U.S. utility customer accounts are served by utilities (or their parent companies) with carbon-reduction targets, and 75% of those accounts are served by companies with 100% carbon-reduction targets.
There is some overlap between data relevant to ESG requests and the proposed SEC disclosures. While ESG standards are evolving, those reports tend to cover similar climate-related risk topics.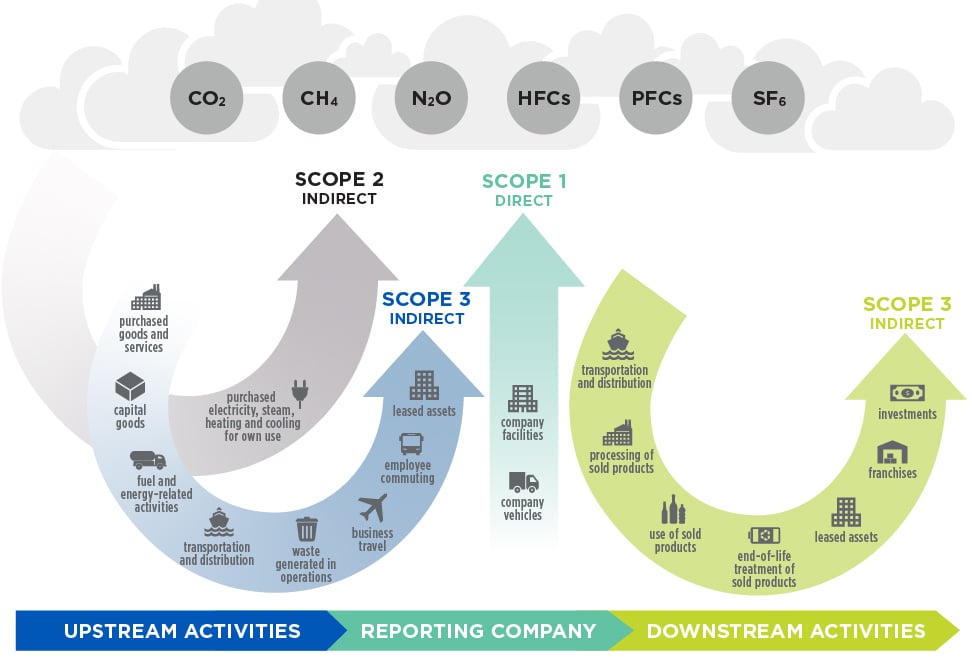 Source: Corporate Value Chain (Scope 3) Accounting and Reporting Standard, World Resources Institute and the World Business Council for Sustainable Development.
One of the most significant impacts of the proposal for investor-owned utilities would be the requirement to report on Scope 3 greenhouse gas emissions. Scope 3 emissions cover upstream and downstream indirect activity that currently may not be well documented. Doing so will require dedicating some resources to capturing this level of detail.
Preparations begin through collaboration with suppliers in the utility's value chain to collect and standardize information on environmental and social impacts for reporting purposes. Utilities will need new information from their partners and contractors to identify relevant Scope 3 emissions. Engineer-procure-construct (EPC) partners may provide advantages by being able to account for multiple in-house services under a single contract, facilitating the information collection process for the utility.
As the world experiences shifting, more frequent, volatile and severe weather events, utilities are called upon to develop thorough plans to maintain reliability and resiliency. Applying a holistic perspective offers a strong pathway to success. Reporting on their progress toward achieving carbon-reduction targets is a valuable way for utilities to leverage their climate risk disclosures. This demonstrates follow-through on their commitments, fostering confidence among their investors.
The clean energy transition is inspiring a new generation of engineers. Their opportunities to contribute extend throughout the electrical infrastructure.