Countries around the world are investing in strengthening and modernizing their military power due to global security concerns amid a heightened threat environment. The United States is among them, announcing a strategy to spend more money on military capabilities, especially hypersonic weapons.
Architecture, engineering and construction firms like Burns & McDonnell partner with United States Defense Department (DOD) prime contractors to design and build the facilities and infrastructure needed for developing, testing and/or manufacturing highly sensitive articles or research for governmental programs. And as the number of governmental programs has grown, so has the need for Sensitive Compartmented Information Facilities, or SCIFs.
A SCIF is a secure area, within a facility, where sensitive information can be viewed, discussed or stored by government officials and approved contractors. SCIFs are used when secure program-read individuals gather to discuss secure controlled information, but more often they are used by government sponsors when they meet with approved DOD prime contractors, or clients who do commercial work for the DOD. Designed and built following specific standards, SCIFs meet a specific need: to prevent outside surveillance. Sensitive documents and conversations stay in while unauthorized people stay out.
Constructing a Secure SCIF
A SCIF can be a permanent space — like the White House situation room — but DOD prime contractors mostly deal with fixed facility SCIFs, which, after construction and accreditation, remain active.
In order for government accreditation officials, or AOs, to sign off on a SCIF prior to its use, two key items are required:
There must be a government sponsor responsible for the contract with the prime contractor and who will provide input and continuous dialogue with the contractor throughout construction of the SCIF.
The SCIF must be carefully designed and built according to current federal directives.
The physical construction of a SCIF is defined by federal directives with technical specifications and design criteria outlined in Intelligence Community Directive (ICD) 705 and per the Technical Specifications for Construction and Management of Sensitive Compartmented Information Facilities, or "Tech Spec." SCIFs are designed to block sound and electronic signals from leaving the room. Walls, floors and ceilings must be constructed with a specific thickness for both drywall and concrete. A SCIF must have doors equipped with special combination locks. Typically, windows are not allowed in SCIFs, as they would provide outside observers views into the secure space. Power in and out of a SCIF and even the HVAC system of a SCIF are all highly regulated.
Typical Elements of a SCIF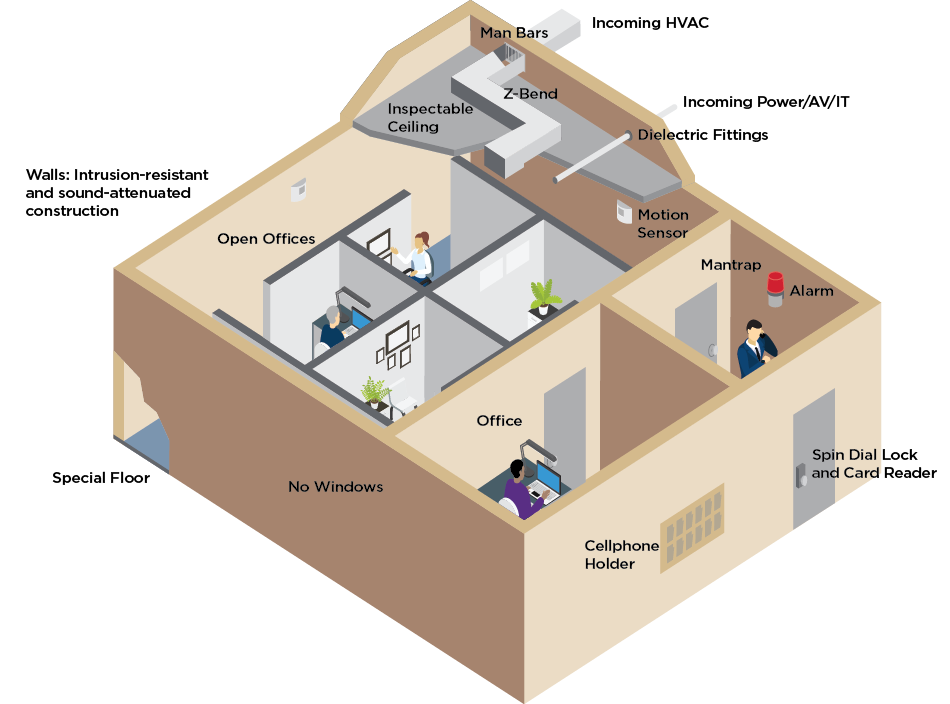 Figure 1: Illustrative view of typical elements for SCIF construction to meet standards outlined in federal directives.
Converting an Existing Room Into a SCIF
A SCIF can be a single room or many rooms and can utilize a large area, such as an existing manufacturing space. Retrofitting an existing room or interior space into a SCIF is common, although it can increase the complexity level of the project since it requires building a room within a room. The existing room may need to be stripped down to its bare walls, ceiling and studs, and reconfigured. Additional layers of drywall, insulation or concrete may need to be added to the ceiling and floor to bring the space up to the required Sound Transmission Class (STC) rating, thus shrinking the overall space. Plumbing, electrical and HVAC may also need to be removed and replaced.
There are some benefits, however, to converting an existing space into a SCIF. The host building and existing utilities already exist at the site, thus decreasing the overall costs for the new program. In addition, a DOD prime contractor can have a single building with multiple SCIF suites with different programs, thereby sharing investment costs.
Selecting a Reliable SCIF Contractor
SCIF construction is limited to U.S. firms and citizens, according to federal guidelines. The amount of time required to get a SCIF up and running as a usable workspace can be lengthy due to the intricacies of the project, unique items that can be difficult to procure, and necessary federal approvals once construction is complete. Depending on the project, however, speed to market may be essential.
Selecting a company with proven experience designing and building these high-tech spaces can expedite the set up and certification of a fully functioning SCIF. Burns & McDonnell team members have decades of experience consulting on, designing and building complex facilities for the aerospace and other manufacturing industries.
Whether a SCIF is for a new hypersonic weapon or any other governmental program that demands such a high level of precision and security, it must be done right.
Our team can offer comprehensive solutions to help you assess your secure facility and plan for the future.