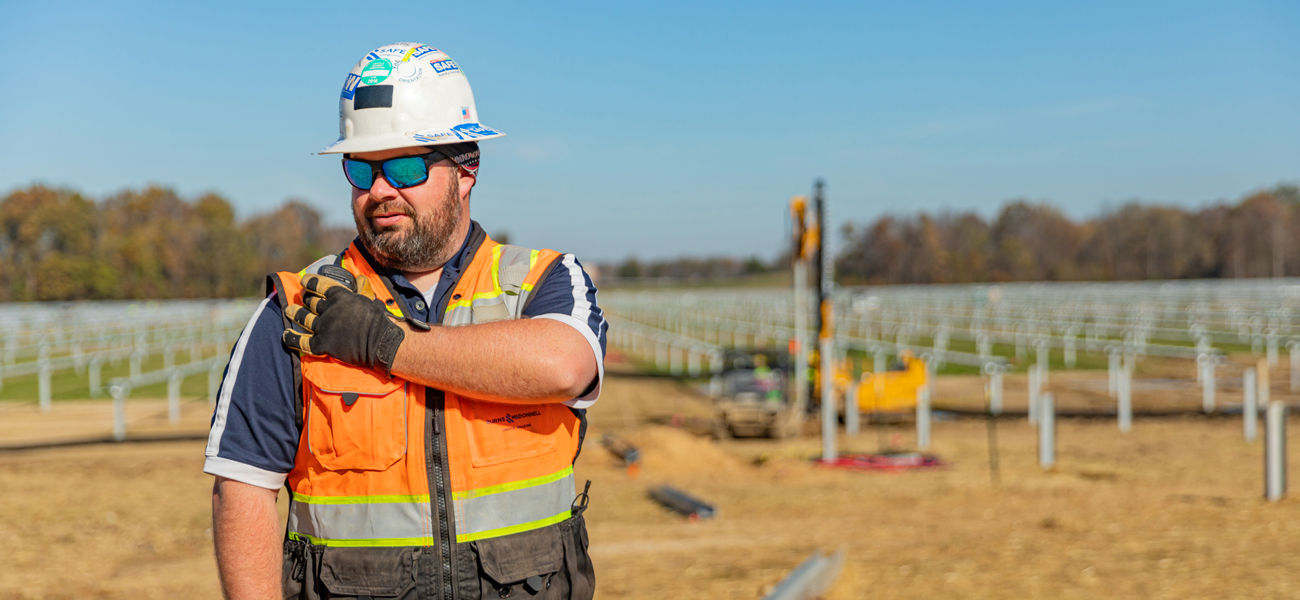 Solar construction is helping states meet ongoing ambitious clean energy targets
---
---
The solar industry shows no sign of slowing. Evidence of this includes the Solar Energy Industries Association's (SEIA) predictions that the U.S. solar industry will quadruple its total installed capacity by 2030, with annual installations reaching 45 gigawatts. Plus, the Solar Futures Study, published by the U.S. Department of Energy and its National Renewable Energy Laboratory, forecasts that solar power will generate as much as 45% of the country's electricity by 2050.
Because of legislation such as the Infrastructure Investment and Jobs Act and the Inflation Reduction Act, government funding for solar and other clean energy projects is available in record amounts. So far, the Inflation Reduction Act alone has resulted in $70 billion in clean energy manufacturing. How to secure these funds, navigate ever-changing regulations and construct high-quality solar projects requires guidance from knowledgeable partners in the architecture, engineering and construction space.
For more on what's happening with solar, hear from construction manager Drew Powers, who is currently working as the construction project manager for Alliant Energy/Wisconsin Power & Light's solar program, which consists of the installation of nine photovoltaic (PV) power plants generating between 65-200 megawatts-direct current (MWdc) of energy. With more than 14 years of experience in construction, he is well-versed in project execution and well aware of where the market is headed, and the challenges and solutions associated with it.
Q: What should utility owners consider when looking at solar sites?
A: There are many details that owners should consider when it comes to selecting a site. First off, location, location, location is key to the success of the project as it is with all real estate investments. Proximity to established roadways is critical for access to the project site as well as to an existing overhead transmission line and/or substation for collection and transmission of generated power. Also, site civil work — including clearing and grubbing and extensive site grading — is required for the site to be usable for solar construction.
Geographical constraints could necessitate additional acreage to achieve the desired plant output, which could extend into nonproduction space, such as drainage ditches, creeks, retention and detention basins, and utility corridors. Additionally, geotechnical constraints, if not considered upfront, pose construction challenges, including poor soils that would require increased pile design, rock that would require pre-drilling or alternative foundation design, soil corrosivity and thermal resistance. Environmental constraints also need to be considered early, because each jurisdiction has rules regarding wetlands, flood plains, threatened and endangered species, and more.
Q: What are the challenges associated with craft labor for solar projects?
A: Solar construction is still relatively new across the country; therefore, craft labor training on solar-specific tasks is one of the biggest challenges. Most craft labor personnel have training in their core competencies but need specific training on solar-specific tasks with solar-specific tools. Providing pertinent safety and installation training is critical to the success of all projects.
Task complacency is another challenge. Craft labor are assigned a specific task, which might be completed repeatedly throughout the duration of a project. Alternating tasks among an experienced crew minimizes complacency and incident exposure. And finally, perhaps one of the biggest challenges is attracting and retaining craft labor for these projects, which is a recurring issue due to the workforce labor shortage and mega solar installations that are taking place across the country.
Q: How is technology used to improve solar construction?
A: Burns & McDonnell is implementing technology through the design and construction of our solar sites. Drone imagery and mapping is used to obtain preliminary topography information, allowing the site civil design team to conduct preliminary site assessment and acquire civil as-built data used for piling data development. Pairing data developed during the civil or structural design phase with GPS-equipped pile driving equipment improves efficiencies in pile driving, while drone imagery also can be used for progress documentation. Additionally, we have utilized and continue to explore the use of powered exoskeletons to assist with critical repetitive tasks. While on-site, we use mobile applications for safety, daily reporting, quality forms and more.
Q: What benefits can an integrated engineer-procure-construct (EPC) contractor provide?
A: An integrated EPC contractor brings considerable cost and schedule efficiencies to any project, especially when armed with the capability to execute all phases of a solar project, including the solar PV and interconnection substation. By working simultaneously on design, procurement and construction, an integrated EPC contractor has a full-service team that is able to design, procure and mobilize quicker than a traditional design-bid-build delivery method or niche construction company can. Integrated EPC execution also allows for the construction team to be involved in the design phase to provide a constructability review and address any potential conflicts during the design phase rather than during construction. The sooner that we can get involved to assist a client with the site selection, development, permitting, design and site optimization, the more streamlined the process and beneficial for the owner.
Q: What are other frequently asked questions about solar construction?
A: We often get asked when a client should bring in a project delivery partner. The answer is the earlier, the better. Having a collaborative team that is all in from the beginning provides exceptional value throughout each phase of the project. Our inclusive team has experience in all phases of project development, including cost analysis and preliminary design, project siting, permitting, right-of-way and easement acquisition, and transmission studies. While we can execute a range of delivery approaches, EPC delivery is our preferred method, providing the client with one point of accountability, cost certainty and a quicker project timeline.
On the technical side, we also get asked about using bifacial versus monofacial modules. Bifacial modules produce solar power from both sides of the panel and have higher efficiency ratings but require special equipment. The traditional, time-tested monofacial modules, on the other hand, produce solar power from one side and do not require special mounting equipment. Deciding which modules to use requires further discussions about client project output goals, capital expenditure, module lead time and tracker manufacturer.
People also want to know if this is a fad or really a path forward for the future. Supply chain issues, rising interest rates and regulation changes have had an impact on the solar industry. But solar power still remains a bright spot within the construction industry. According to SEIA, the industry installed 6.1 gigawatts-direct current (GWdc) of capacity in the U.S. during the first quarter of 2023, up 47% during the same period a year earlier. This development is a testament to the fact that solar will continue to have a presence in our future, helping utilities diversify their energy portfolios and reduce their carbon footprints.
Although solar energy continues to show much promise, a careful balancing act of various energy sources is needed to reduce greenhouse gas emissions while preserving energy security and stability. An integrated mix that includes solutions like solar power and other renewables, natural gas, hydrogen, biofuels, electrification, and carbon capture, utilization and storage should be considered.
With solar technology costs dropping and decarbonization targets approaching, interest in solar is at an all-time high. Learn how contractor knowledge and experience in the current, ever-changing marketplace not only helps overcome challenges but also advances the development of new utility-scale solar farms.
Editor's note: This post was originally published Feb. 1, 2021, and has been updated for context and accuracy.