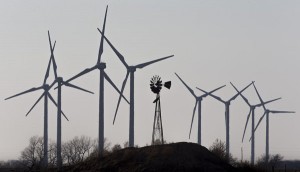 Kansas is one of the nation's leading producers of wind energy. And now it's home to the largest single-build wind farm in U. S. history — a wind farm that's breaking the mold for what the industry thought was possible.
First, a little background on the project.
The $800 million Flat Ridge 2 project, which went into full commercial operation earlier this month, is a 50/50 partnership between Sempra U.S. Gas & Power and BP. It's situated on 66,000 acres and stretches across three counties in southern Kansas. The 294 GE wind turbines will create nearly 470 megawatts (MW) of wind energy — enough to power more than 140,000 homes — and is under long-term contract to supply power to various states including Missouri, Arkansas and Louisiana.
At its peak, the project created nearly 500 construction jobs, providing a much-needed boon to the Kansas economy, and will provide roughly 30 full-time jobs to maintain and monitor the facility now that it's operational.
So what's the big deal?
For starters, there are few wind farms bigger than Flat Ridge 2. But even more impressive is that no other wind farm has been constructed with this amount of megawatts in a single phase. (A typical wind farm is constructed in multiple phases with lower wattage.) The logistics required and overall scale of the project is nothing the industry has seen before.
To put it in perspective, consider this: The blades of a wind turbine are more than 120 feet long and set atop a 200-foot-plus tower, with a blade sweep that spans close to an acre of vertical airspace. And that's just for a single blade. With almost 300 wind turbines on the Flat Ridge 2 project, that equates to more than 3,000 site deliveries for just the turbine equipment alone. That doesn't account for the construction equipment and other deliveries, let alone construction. All of this happening with more than 500 people working on-site at any given time is no simple task.
This is some pretty cool stuff and very exciting for the state of Kansas. Congratulations to Sempra and BP for setting the new standard of what's possible for the wind industry.
Image via Travis Heying/The Wichita Eagle
Aaron Anderson is a Mechanical Engineer and Project Manager in Burns & McDonnell's Renewable Energy Group. Aaron specializes in financial and engineering analyses of renewable and alternative energy projects, including contractual negotiations, project development, asset due diligence assessments, technology evaluations, resource and energy assessments, wind farm design and project economic and strategy evaluations. Aaron has directly supported more than 20 GW of power generation projects, including more than 12 GW of wind energy development.