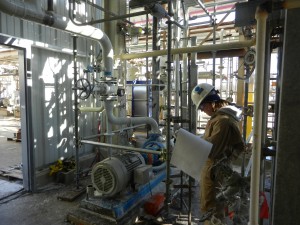 As someone whose work involves dealing with rotating equipment, it was great fun to be featured in the November 2013 issue of Pump Engineer. The staff at the magazine tracked me down to find out more about the sort of work I do on a day-to-day basis; here's a taste of what I was able to tell them.
The first thing to say about my work is that there's no "typical" day — and that's the way I like it. It's part of my job to review new installations of rotating equipment to ensure everything is properly installed and maintained with long-term reliability in mind.
But an equally important role is to analyze why there might have been a premature failure and to oversee repairs or replacement of faulty equipment. So while some days I might be in the office all day reviewing pump information or performing quality checks on equipment, another might find me out in the field reviewing new equipment installations or studying parts to evaluate why a pump failed. Since most plants operate 24/7, I can be called to the field at any time. My day can change at any moment based on a client's needs.
The type of work I'm involved in can be very varied. For example, a project I'm currently working on involves pumps at a loading terminal that were misapplied. The fact that the product being unloaded contained a lot of vapor on warm days had been overlooked when the pumps had been procured; my team is working with the client to specify the right pumps to operate at maximum efficiency whatever the conditions. By contrast, another current project involves the design and installation of a new natural gas fractionation facility. This type of project makes up a large part of our work, and it's vital that we get accurate information and specifications from project managers and equipment manufacturers at an early stage, so that we can address any issues that might affect the installation
Training can also take up part of my day, both with my own professional development and the training of other engineers and operators. Burns & McDonnell makes training a priority, with a training department that carries out both internal and external training. They encourage in-house subject matter experts to share their knowledge with people in other parts of the company, and I've developed several classes for internal purposes on pumps, motors, compressors, pulsation and safety, to name just a few.
As with most jobs, keeping up-to-date with industry issues and networking also takes up part of my time. I keep in regular contact with colleagues on LinkedIn, where I'm a member of several discussion groups. I also represent the company on the machinery functional team at the Process Industry Practices organization, which keeps me in regular contact with other industry professionals.
Whatever my day involves, it's being able to apply my experience and knowledge to solve an issue or build pump reliability into a site that makes or keeps a customer satisfied that gives me a feeling of great satisfaction.
Jay Zaffino is a principal rotating equipment engineer with Burns & McDonnell. You can find the full interview with Jay at Pumps Mean Never a Dull Moment at Burns & McDonnell Engineering Company.