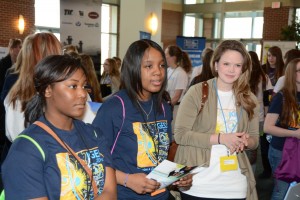 We are always thrilled to be a part of STEM (science, technology, engineering and math) learning initiatives, especially as they relate to introducing girls to the field of engineering. It was a special thrill for our team to be involved in the local "Introduce a Girl to Engineering" event, which took place at the Overland Park Convention Center this past week during the celebration of National Engineers Week. Kansas City has one of the largest engineering communities in the country, so it's a natural choice for an event of this nature.
Students attending the event came from schools across the Kansas City metro and were selected to attend by their teachers. Some 200 high school girls got the chance to spend the day at the convention center talking with female engineers from area companies about how awesome it is to be an engineer. The girls visited booths staffed by engineers from all over the city. They had the opportunity to ask questions about schools, majors, career focus, what to expect from a career in engineering, opportunities for female engineers — and a host of other things. Some girls opted for one-on-one meetings with mentors on site, and it was really a day filled with networking, learning and fun.
I was there, along with my colleagues, Christina Conrad (who served on the planning committee with me), Wendy Bailey, Amy Bartak, Jessica Garder, Regan Teel, Kathryn Zalenski, Jenny Macy and Emily Rhoden. It was great to talk with young girls and share our stories with them and tell them about not only how we ended up selecting engineering as a career focus, but also what it was like in the workforce once we obtained our degrees and set out to put them to use. We were joined by women from many other engineering firms and other companies throughout the city, including our friends at Black & Veatch, Honeywell, Hallmark, HNTB, Garmin and Kiewit.
Our personal experience (borne out by research) is that women who go the route of an engineering degree tend to either have a family member or other close friend who's an engineer and/or they have a mentor or a teacher that set them on the path. Engineering is such a broad discipline that it's rare someone just decides, without other influence, to explore it as a career path.
Kudos to Honeywell's Alyssa Zimmerman for arranging this year's event and for helping us do all we can, collectively, to mentor young girls and help them discover the opportunities that await in the field. Today, women represent only 10% of the total engineering workforce. But if we have our say about that and if the amazing young women we met last week are any indication, that's going to change — and soon!
If you're a girl thinking about engineering as a career choice or if you have a daughter or a friend who might be interested in engineering, make note of this event and put it on your radar for next year. We'd love to see you there!
Image via kansascity.com
Kim Bartak is an electrical engineer in the Burns & McDonnell Business & Technology Services Group. She's on the planning committee for Introduce a Girl to Engineering Day, sponsored by the Kansas City Section of the Society of Women Engineers (SWE-KC) and served as the Mentor & Volunteer Coordinator for this year's event. Kim is a business consultant on KCP&L's Smart Grid Demonstration Project.